Reusable Sponge Water Balls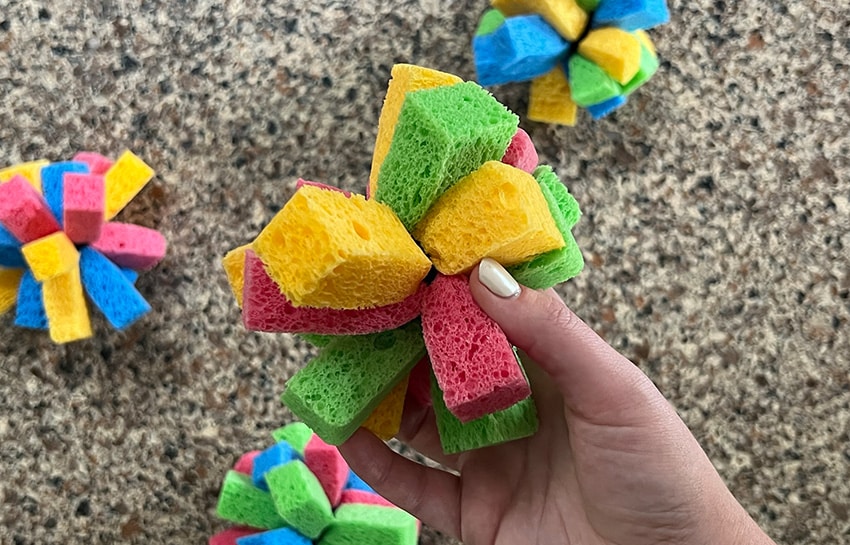 Get your children outside to enjoy the last days of summer with a fun water activity that is just as fun as a water balloon fight! This activity is simple, quick, and cheap to create, and your children will enjoy endless hours of fun playing with these sponge balls.
What are reusable sponge water balls?
Sponge water balls are made from strips of sponges that are cut and tied with a rubber band or hair elastic. Unlike traditional water balloons, these water balls are a way to be eco-friendly and are great for throwing around without causing any harm.
How to Make Reusable Sponge Water Balls
Materials:
Multicolored sponges
Scissors
Hair elastics (or rubber bands)
Water
Bucket/bin
Instructions:
Choose three sponges and cut each one lengthwise into three strips.
Stack the sponge strips in three rows of three, mixing up the colors to create a multicolored ball.
Wrap a hair elastic around the middle of the group of sponge strips as tight as possible.
Pull the strips apart in opposite directions to fluff up the ball so the hair elastic is no longer visible and it resembles more of a ball shape.
Repeat the process to create multiple sponge balls.
Head outside, fill up buckets or bins of water, add the reusable sponge balls to the water, and have some water fun!
Reusable Sponge Water Balls – Video Tutorial
We are sure this activity will get your kids in the backyard having summer fun for hours! For more fun activities to entertain your kids outside, head to our Family Resource Library for more interactive kids' activities, parenting tips, and book recommendations.
Check out some of our other summer-fun activities children can enjoy outdoors:
New Horizon Academy is a nationally recognized early learning provider with over 90+ schools in Minnesota, Colorado, Iowa, Idaho, and Kansas. Through a play-based curriculum and high-quality daycare, New Horizon Academy schools nurture and prepare children to succeed in school and life.
Schedule a tour to learn more about our highly trained teachers, safe and secure facilities, and commitment to providing the highest quality care. Contact a New Horizon Academy childcare center near you today!