Wash the Farm Animals – Sensory Bin Idea for Kids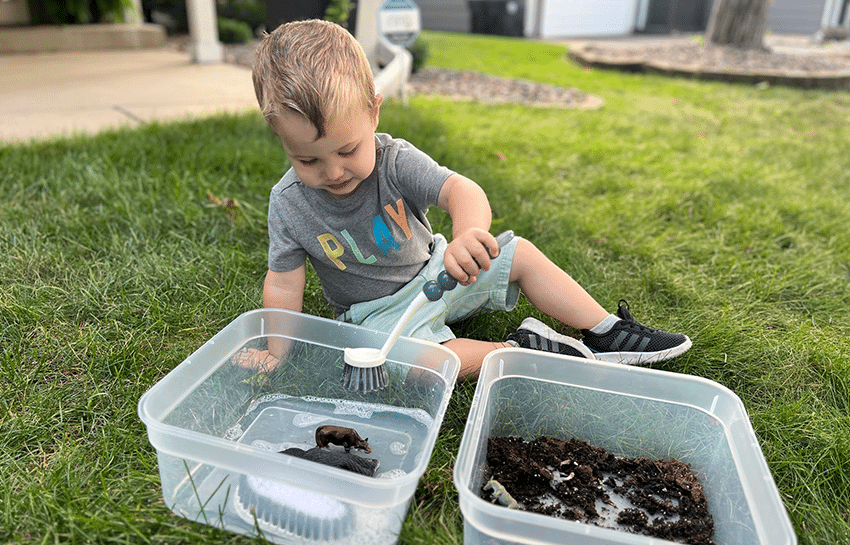 This sensory bin for washing farm animals is easy to setup and takes only minutes! It is one of our favorite bins to put together in classrooms, and children find this sensory bin irresistible! Getting filthy in the dirt and then cleaning with the bubbles is exciting for kids of all ages!
What Are Sensory Bins?
A sensory bin is typically a plastic container or tub containing materials and objects to stimulate the senses. You can fill the bin with materials such as rice, water, shredded paper, and other items from around the house.
How to Build a Sensory Bin for Washing Farm Animals

Materials:
2 clear plastic bins
Water
Dish soap
Plastic farm animal figurines
Potting soil or other dirt
Brushes, washcloths, etc.
Instructions:
Make a muddy area for the animals by pouring the dirt into one bin and adding a tiny bit of water to the dirt.
Create the washing bin by filling it with water and mixing in the dish soap.
Add the animals to the dirt/mud bin and add cleaning supplies to the water bin.
Have your child experience the sensory bin by washing the farm animals!
Washing Farm Animal Sensory Bin – Video Tutorial
Don't let the fun stop here! If you want more fun and creative ideas like this, we have more interactive kids' activities, parenting tips, and book recommendations in our Family Resource Library. There is so much to learn and experience as a family!
Check out some of our other favorite sensory bin ideas for kids:
New Horizon Academy is a nationally recognized early learning provider with over 90+ schools in Minnesota, Colorado, Iowa, Idaho, and Kansas. Through a play-based curriculum and high-quality daycare, New Horizon Academy schools nurture and prepare children to succeed in school and life.
Schedule a tour to learn more about our highly trained teachers, safe and secure facilities, and commitment to providing the highest quality care. Contact a New Horizon Academy childcare center near you today!