DIY Scented Rainbow Bubbles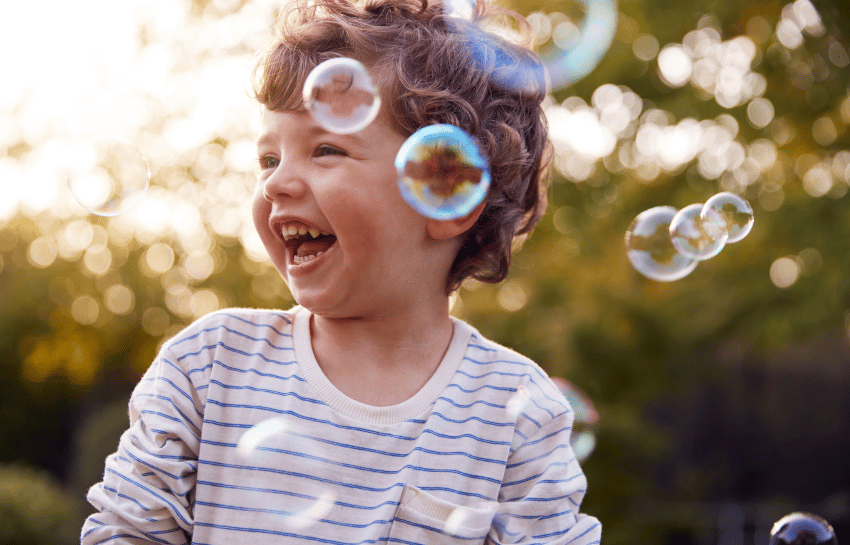 How to Make DIY Scented Rainbow Bubbles
Materials:
Clear Egg Cartons
Unscented Dish Soap
Essential Oils
Food Coloring
Bottles or Jars with Lids
Scissors
Wire or Pipe Cleaners
Wire Cutters
Water
Instructions:
Open up the empty egg carton, and cut along each hinge to create two pieces. The two egg-compartment pieces will be used for holding bubbles.
Mix 6 cups of water, 1 cup of unscented dish soap, and 1 Tbsp of glycerin. Stir the solution to combine.
Pour the bubble solution into eight jars or bottles, one for each color of the rainbow.
Add a drop of food coloring into each jar to have red, orange, yellow, green, blue, and purple colors. Add a drop or two of essential oil to each color and stir.
Make the fun-shaped bubble wands, making sure that they fit into the jar openings and are the size of one egg compartment. Use tape to secure the handles or twist the wire together.
Pour the colored bubbles into the egg compartments, encourage the child to smell each solution, and ask which scent and color combinations they like best. Then, start making bubbles!
Rainbow Bubbles – Video Tutorial
Questions to Ask Your Child After the Experiment:
What do all the colors smell like?
What is your favorite scent?
Did your bubble wands create bubbles?
Did the colors mix and change?
For more bubble fun, check out some of our other favorite summer activities for kids!
New Horizon Academy is a nationally recognized early learning provider with over 90+ schools in Minnesota, Colorado, Iowa, Idaho, and Kansas. Through a play-based curriculum and high-quality daycare, New Horizon Academy schools nurture and prepare children to succeed in school and life.
Schedule a tour to learn more about our highly trained teachers, safe and secure facilities, and commitment to providing the highest quality care. Contact a New Horizon Academy childcare center near you today!