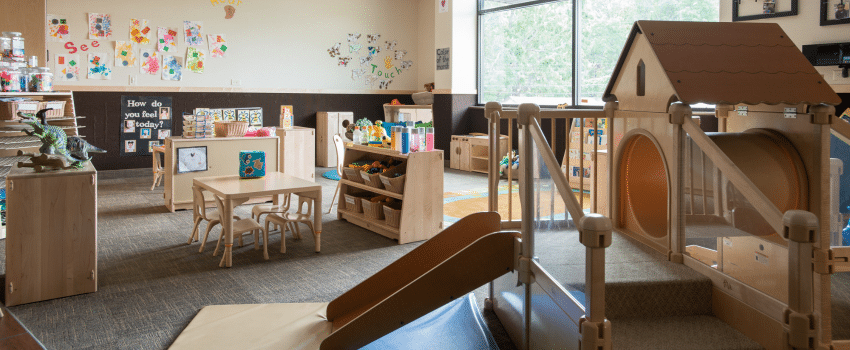 Our classrooms are designed to encourage a toddler's need for independent exploration and to encourage learning at each stage of toddler development. Our carefully designed toddler classrooms offer the following four activity zones:
Welcoming and Routines
This is the area where your toddler will store personal belongings and participate in the many routines that are integral to a successful day. Here, your toddler will eat meals, wash hands, brush teeth, learn to use the bathroom, and grow in their ability to dress themselves for outside play.
Creative
Your toddler will investigate and express himself in our Creative Zone. This zone offers opportunities for science, technology, engineering, art, and math (STEAM) exploration with materials, like paints, watercolors, play dough, glue, and construction paper, along with many things to measure, sort, pour, sift, stir, and count.
Active and Busy
Toddlers need to move. Jumping, hopping, climbing, crawling, and dancing engage your child's brain and builds connections that form the basis for many life-long skills. In our Active and Busy Zone, your toddler will use equipment like riding toys, blocks, and climbing structures, along with music and instructions to encourage singing and rhythmic movement.
Calm and Cozy
Even the busiest toddlers need a comfortable place to take a break from a busy day, so we have created a Calm and Cozy Zone. Your toddler will have a special place to snuggle and cuddle using quiet materials, like puzzles, books, and manipulative toys.