Start Your Year with a Rewarding Career!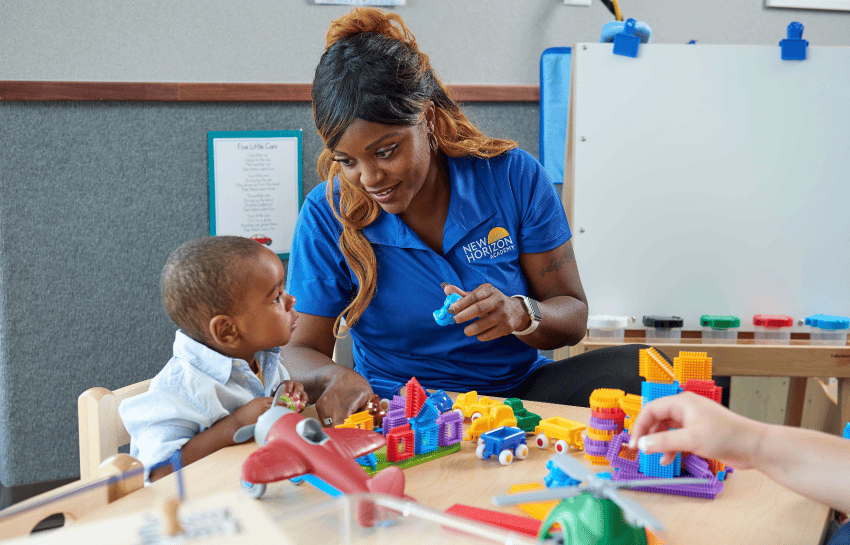 New Horizon Academy is hiring!
A new year can bring so many new opportunities, such as starting a new career. As many people see the beginning of a year as the perfect time to achieve new goals, pursue new desires, or start fresh, January can be the perfect time to apply for that job you have recently been interested in. Have you ever considered a career in early childhood education? If so, check out some of the ways you can begin a rewarding career in childcare at New Horizon Academy!
The earliest years of a child's life are essential for their growth and development. These are the years that children are still passionate and excited to learn. It is such a privilege to become a teacher and be included in the process of developing a child's mind and preparing them for the future. When you begin your career as a childcare teacher at New Horizon Academy, you get to help children build social skills, intellectual learning, and confidence. Besides, teachers also get to have a ton of fun!
Interested in starting your career in childcare? Here are some of the awesome perks of starting your career in childcare at New Horizon Academy!
1. Growth Opportunities
The demand for quality childcare is significant, and our business continues to grow with that demand. Parents want a reputable, positive learning environment for their children during their earliest years, and for many parents, that means bringing their children to New Horizon Academy.
With the heavy need for childcare, there are so many career opportunities within our New Horizon Academy schools across Minnesota, Colorado, Idaho, Iowa, and Kansas. There are also many opportunities for growth within the company. Countless staff have started as teachers and have grown within the company into various positions. Some employees have started as assistant teachers and worked their way up to becoming school directors. Kami Thompson, for example, started in a teacher's aide position and moved all the way up to becoming a district manager.
From teacher's aide positions, to lead childcare teachers, kitchen managers, school directors, and office positions at our corporate office, there is lots of room to grow your career at New Horizon Academy. Check out some of our current job openings here.
2. Educational Support
Most positions at New Horizon Academy do not require you to have a college degree. However, you do need certification, training, and experience in childcare to be qualified for some of the positions you may be interested in applying for. Many of our employees start teaching positions and decide to go back to school later on to get their Child Development Associate (CDA), associate degree, or even their bachelor's or master's degree.
One of the great benefits of working for New Horizon Academy is that we pay for you to go back to school! New Horizon Academy financially supports our staff in furthering their education in the field with our reimbursement program and scholarship. We currently provide 100% coverage for employees to earn their CDA or AA degree in early childhood education.
3. Flexible Hours
New Horizon Academy offers a variety of full-time and part-time positions to meet your needs. If you love the idea of having a standard weekly schedule, finding a career as a teacher in one of our classrooms could be a great fit for you! Work hours can range between 6:00 a.m.–6:30 p.m., Monday-Friday, at our school locations. No nights or weekends! If your schedule varies, you may prefer one of our substitute teacher or part-time positions to allow for more flexibility.
4. Employee Benefits
Starting a career with New Horizon Academy comes with lots of perks. Besides the obvious perk of getting to work with kids every day, New Horizon Academy also offers a suite of benefits for employees including employer-sponsored health insurance, childcare discounts, 401(k) plans with employer match, paid time off, educational reimbursement, and more. Visit our careers page to learn more about the benefits, opportunities, and support you will receive while working at New Horizon Academy.
5. Fun Working Environment
Job satisfaction is one of the most important factors in a career. Who doesn't want a job that is fun and exciting every day? Working with children every day brings new and exciting things. You get to see your curriculum shape children in your care. It is gratifying to witness them learn, grow, and see how the world works. This growth happens daily! We cannot think of a better reason to start your career in childcare.
6. Making a Difference
Many people think working in daycare centers is similar to babysitting, but truth be told, the childcare field is so much more than just daycare or babysitting. Our teachers are educating children on how to function in this world. Our teachers are showing children how to interact with others and build skills and confidence. Our teachers are society's key to shaping future generations.
Childcare positions are so important, and at New Horizon Academy, we value each and every one of our employees. When you become a teacher at New Horizon Academy, you will be making a difference!
Having a career in childcare has endless rewards. Many of our schools are looking for passionate teachers like you! If you love working with kids and you are ready to kickstart the new year, apply for a position at New Horizon Academy! To check for openings at a school near you, visit our careers page. Positions are available in Minnesota, Colorado, Idaho, Iowa, and Kansas.
Work where you're loved at New Horizon Academy!