Salt Painting Craft for Kids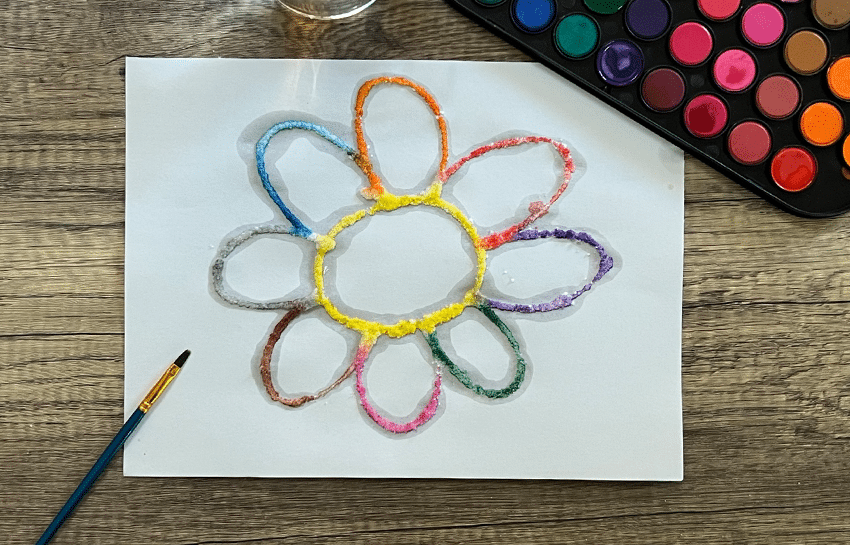 Have you ever wondered what would happen if you painted salt? Get ready for a surprise and add this simple salt painting project to your art list because it is so fun! This craft does not involve artistic ability, only fun with a little pinch of science.
What is Salt Painting?
Salt painting, also known as raised salt painting, is a fun way to create art with salt. Salt painting involves gluing salt to paper and then painting your design with watercolors or food coloring and water mixture like ours. If you are not feeling creative, you can also trace shapes for your salt painting. Another simple idea would be for children to trace their names with glue and salt.
How to Make Raised Salt Painting Art
Materials:
Elmer's liquid glue
White construction paper
Table salt
Watercolor paint or food coloring
Paintbrush
Water
Instructions:
Lay the white construction paper on a flat surface near your cup of water and paint colors.
Grab your glue and start creating the desired design. Feel free to trace anything!
Add a heavy amount of salt onto the glue and carefully pour the excess salt off the paper.
Let the glue and salt design dry.
Grab your paintbrush, dip it into the watercolor, and begin to dab onto the design.
When you finish your masterpiece, let the painting dry overnight!
Salt Painting Craft – Video Tutorial
There are so many more fun projects like this in our Family Resource Library! Here are a few of our other favorite simple art projects for kids:
New Horizon Academy is a nationally recognized early learning provider with over 90+ schools in Minnesota, Colorado, Iowa, Idaho, and Kansas. Through a play-based curriculum and high-quality daycare, New Horizon Academy schools nurture and prepare children to succeed in school and life.
Schedule a tour to learn more about our highly trained teachers, safe and secure facilities, and commitment to providing the highest quality care. Contact a New Horizon Academy childcare center near you today!