The Safest Choice: How to Select a Safe Daycare Provider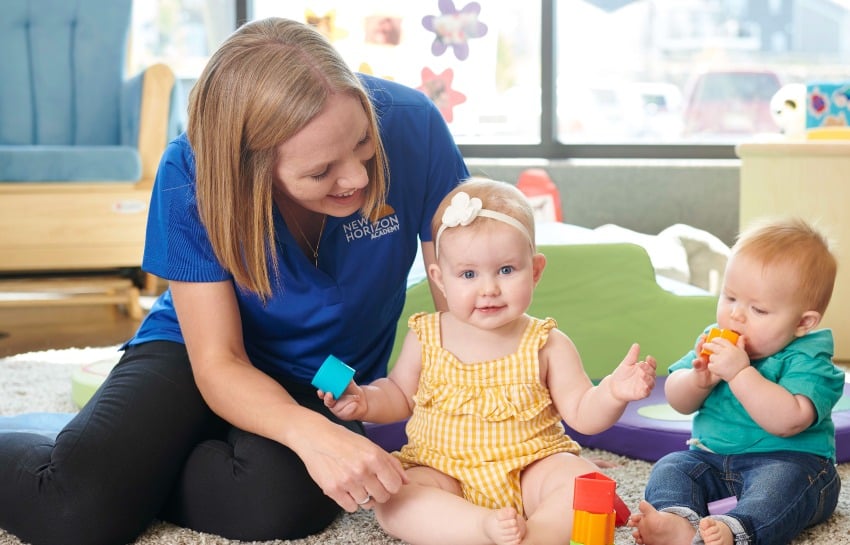 Choosing a new childcare center is an important, yet difficult decision. Not only are you choosing the people who will care for your child, but you're also choosing a place for your child to learn, grow, and thrive in their earliest years. But how do you find the best childcare center for your child? There are so many factors that play an important role in this decision. You make ask questions such as:
Where is the childcare center located? What does tuition cost? What curriculum does the school use? What qualifications do the teachers have? And one of the most commonly asked questions by parents: what health and safety measures does the childcare center have in place?
While location, curriculum, cost, and teacher qualifications are all very important factors, recent studies have shown that health and safety is the most important consideration for parents when selecting a daycare. This is no surprise – every family wants their child to be and feel safe at school.
As your family explores local childcare options, use our handy Childcare Health and Safety Checklist to ensure the childcare center you choose makes health and safety a top priority.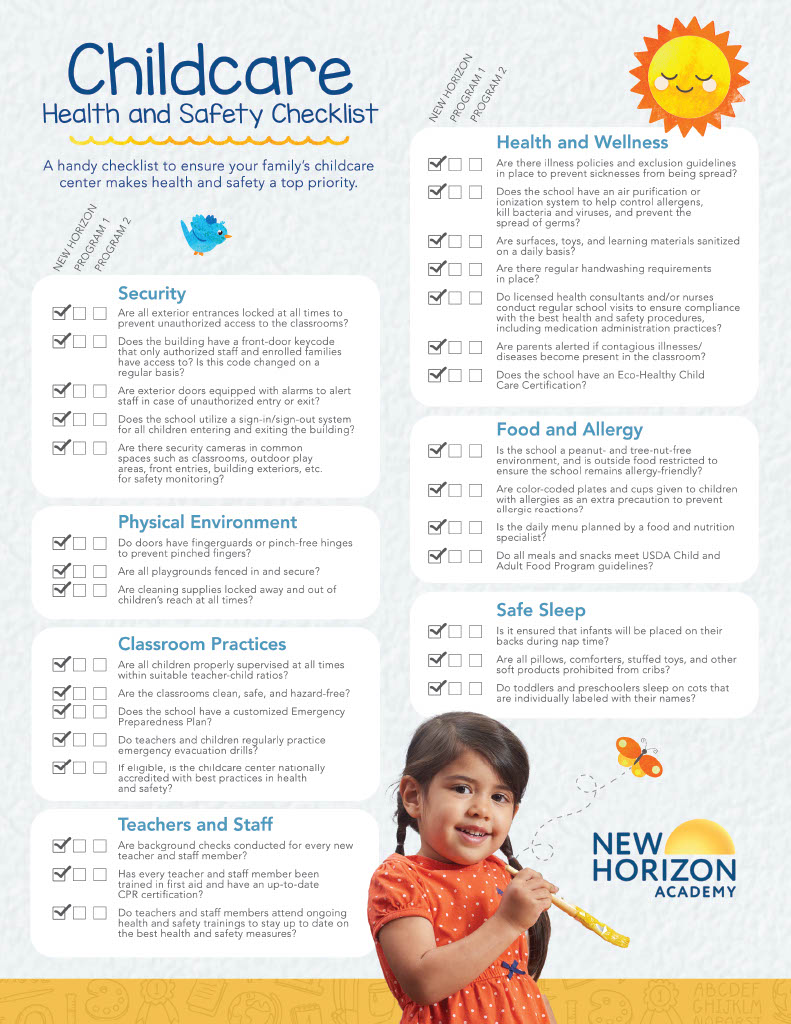 Download Childcare Health and Safety Checklist
Health and Safety Questions to Ask Your Childcare Center
Here are some of the most important health and safety questions to ask as you compare different childcare centers near your home or work.
Security
Are all exterior entrances locked at all times to prevent unauthorized access to the classrooms?
Does the building have a front-door keycode that only authorized staff and enrolled families have access to? Is this code changed on a regular basis?
Are exterior doors equipped with alarms to alert staff in case of unauthorized entry or exit?
Does the school utilize a sign-in/sign-out system for all children entering and exiting the building?
Are there security cameras in common spaces such as classrooms, outdoor play areas, front entries, building exteriors, etc. for safety monitoring?
Physical Environment
Do doors have fingerguards or pinch-free hinges to prevent pinched fingers?
Are all playgrounds fenced in and secure?
Are cleaning supplies locked away and out of children's reach at all times?
Classroom Practices
Are all children properly supervised at all times within suitable teacher-child ratios?
Are the classrooms clean, safe, and hazard-free?
Does the school have a customized Emergency Preparedness Plan?
Do teachers and children regularly practice emergency evacuation drills?
If eligible, is the childcare center nationally accredited with best practices in health and safety?
Teachers and Staff
Are background checks conducted for every new teacher and staff member?
Has every teacher and staff member been trained in first aid and have an up-to-date CPR certification?
Do teachers and staff members attend ongoing health and safety trainings to stay up to date on the best health and safety measures?
Health and Wellness
Are there illness policies and exclusion guidelines in place to prevent sicknesses from being spread?
Does the school have an air purification or ionization system to help control allergens, kill bacteria and viruses, and prevent the spread of germs?
Are surfaces, toys, and learning materials sanitized on a daily basis?
Are there regular handwashing requirements in place?
Do licensed health consultants and/or nurses conduct regular school visits to ensure compliance with the best health and safety procedures, including medication administration practices?
Are parents alerted if contagious illnesses/diseases become present in the classroom?
Does the school have an Eco-Healthy Child Care Certification?
Food and Allergy
Is the school a peanut- and tree-nut-free environment, and is outside food restricted to ensure the school remains allergy-friendly?
Are color-coded plates and cups given to children with allergies as an extra precaution to prevent allergic reactions?
Is the daily menu planned by a registered dietitian?
Do all meals and snacks meet USDA Child and Adult Food Program guidelines?
Safe Sleep
Is it ensured that infants will be placed on their backs during nap time?
Are all pillows, comforters, stuffed toys, and other soft products prohibited from cribs?
Do toddlers and preschoolers sleep on cots that are individually labeled with their names?
We hope this health and safety checklist was able to provide guidance in selecting a childcare center. No matter which daycare provider is the right fit for your family, our wish is that they uphold the highest standards of health and safety. Every child deserves a happy, safe, and welcoming environment in order to receive the very best early childhood education.
For more information about safety measures at New Horizon Academy, visit our health and safety page.
Still need help selecting the perfect childcare for your family's unique needs? Use our Quality Childcare Checklist for more helpful tips and important questions to ask when touring daycare centers near your home or work.