Working Parents: 7 Reasons to Choose Childcare Near Your Workplace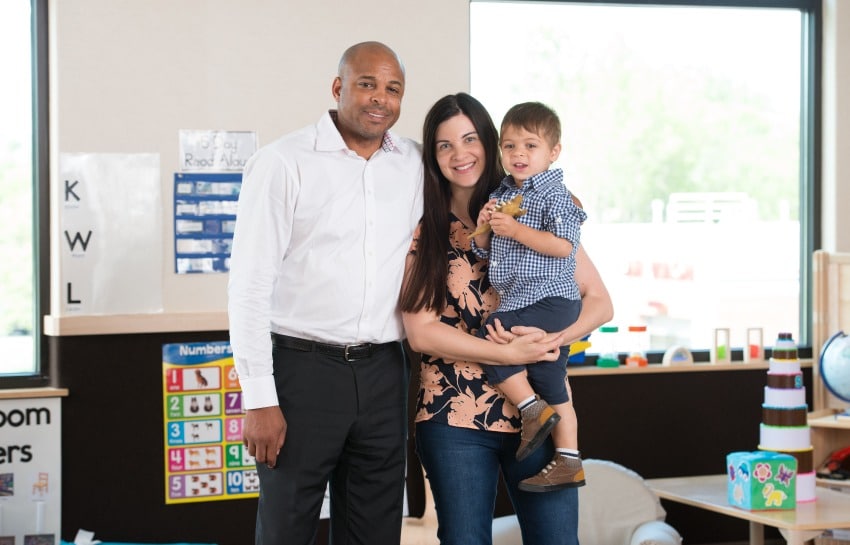 Choosing a daycare is one of the most important decisions that you will make for your child in their earliest years. That being said, choosing a daycare can also be one of the most difficult decisions. As you search for childcare and early education options for your little one, it's important to consider factors such as curriculum, health and safety guidelines, teacher qualifications, and family involvement.
Location and convenience also play a huge role in the decision. Most families will select a daycare center near their home or work for easy commuting. While many families assume childcare close to home is most convenient, choosing a daycare close to your work can be a great option for working parents who have a long commute to the office!
Here are the top 7 reasons to choose a childcare center close to your work.
7 Benefits of Choosing a Daycare Close to Work
1. You are close to your child.
Choosing a daycare close to your work means you will be closer to your child during the school day. This can bring peace of mind to you and your child, knowing that you're only minutes away. This can be especially easing to families that are still transitioning into childcare.
2. It makes for a faster pick-up time.
If your child's daycare is close to your work, you are one step closer to picking them up at the end of the day. If work runs late, your child won't have to wait as long, and you can avoid late fees. That also means you can pick up your child more quickly in the event of sicknesses or other emergencies.
3. It is easier to visit your child during the day.
A short commute to your child's daycare can make it easier to drop in during the day. This can be especially helpful for moms that are still breastfeeding or parents that just want to check in.
4. School events are easier to attend.
If your child's school is holding a special event such as a family breakfast or preschool graduation, you won't have to drive all the way across town in order to attend. Your child will appreciate having you there longer, instead of using the majority of your work break driving to get there.
5. You can spend more time with your child.
Balancing parenthood and the workforce can make it difficult to spend a lot of time with your child during the week. Having a daycare that's closer to work means you will be able to spend more time with your child on your morning and afternoon commutes.
6. You can save money if your work offers on-site childcare or discounts for nearby schools.
Many businesses will offer childcare discounts and/or on-site childcare for their employees. Find out if New Horizon Academy offers employer-sponsored childcare at your workplace!
7. You can get to know colleagues that have children at the same center.
If your childcare center is close to your workplace, chances are some of your coworkers bring their children to the same school! This can be a great way to network and get to know colleagues in other departments or employees at nearby businesses.
Remember to Choose Quality Daycare – Whether it's Close to Work or Home
Wherever you decide childcare makes sense for your family's unique needs, make sure you choose a high-quality school that provides children with a nurturing and safe place to learn and grow. While location is an important factor in choosing a program, so is curriculum, health and safety, teacher qualifications, and family involvement. Use our quality childcare checklist to assist your family in finding a high-quality childcare provider near your work or home.
With over 90 schools in Minnesota, Colorado, Idaho, Iowa, and Kansas metro areas, many families find a New Horizon Academy childcare center near their workplace. Find a school near your work today!