Try this Easy, Last-Minute Mother's Day Craft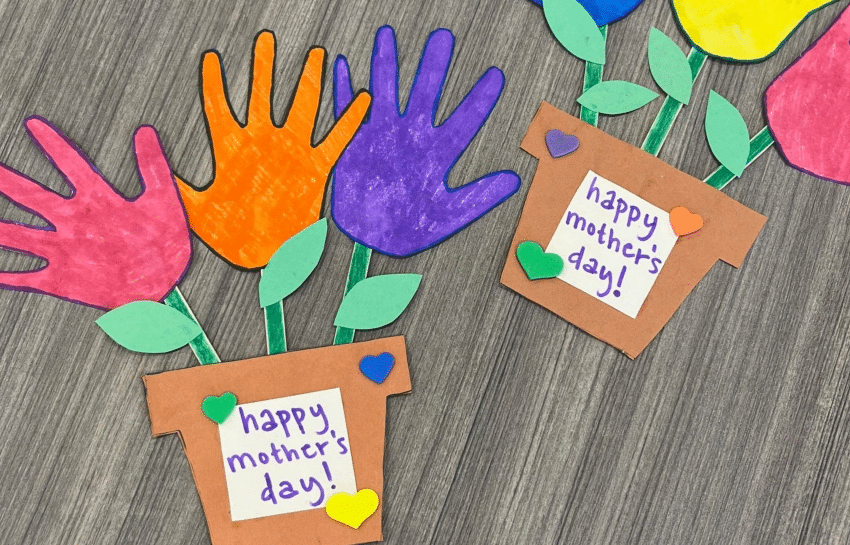 Are you looking for a simple last-minute Mother's Day gift for the special mom, grandma, or loved one in your child's life? We have the perfect craft for you! It uses craft supplies you probably have around the house, and it takes just a few minutes. And, if your child is not in the mood for a craft (we know that happens!), you can create this sweet gift with very little kiddo participation.
Last-Minute Mother's Day Craft
Supplies Needed:
Construction paper or cardstock in white, green, and tan
Popsicle sticks
Scissors
Markers OR washable paint, paintbrushes, and paper plates
Glue
Instructions:
Lay newspaper or paper bags to protect your work surface.
Use a marker or paint to color popsicle sticks green.
Cut two flowerpot shapes out of tan construction paper.
Cut leaves out of green construction paper.
To create hand-shaped "flowers," you can either:

Trace your child's hand and cut out three hand shapes. Color or paint each handprint flower a different color, and let them dry. OR:
Spread a different paint color on three paper plates. Help your child press their hand on a plate until their palm is coated in paint. Then, press their hand onto a piece of white construction paper. Hold your hand on top of theirs for 10 seconds until the paint has transferred. Wash your child's hand and repeat with another color. Let dry.
Glue three popsicle stick "stems" between the two flowerpot-shaped papers. Glue leaves onto the sides of the stems. Glue handprint flowers to the top of the stems.
Help your child write their name or a sweet note on the pot – or let them decorate it however they choose! Mom will love it, no matter what.
We hope all the mothers, grandmothers, aunts, and caregivers in the New Horizon Academy family have a wonderful Mother's Day!
Looking for more Mother's Day ideas you can do with your child? Check out some of these additional resources below:
New Horizon Academy is a nationally accredited early learning provider with over 90 schools in Minnesota, Colorado, Iowa, Idaho, and Kansas. Through play-based curriculum and high-quality daycare, New Horizon Academy schools nurture and prepare children to succeed in school and in life.
Schedule a tour to learn more about our highly trained daycare teachers, safe and secure facilities, and commitment to providing the highest quality care for infants, toddlers, preschoolers, and school-age children. Contact a New Horizon Academy childcare center near you today!