Homemade Galaxy Play Dough for Kids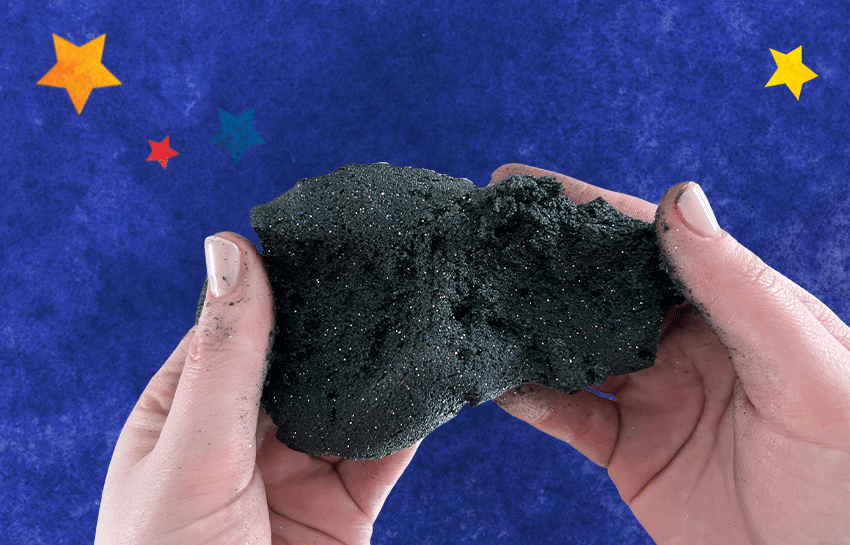 Create play dough that is out of this world! With just a few ingredients, you and your child will have a blast making galaxy play dough that will look like it came straight from outer space!
How to Make Galaxy Play Dough
Galaxy Play Dough Materials:
1 cup flour
½ cup salt
1 tbsp cream of tartar
1 tbsp vegetable oil
Black gel food coloring
1 tbsp blue glitter
1 tbsp pink glitter
1 tbsp black glitter
1 tbsp silver glitter
Mixing bowl
¾ cup boiling water
Galaxy Play Dough Instructions:
Add flour, salt, cream of tartar, and vegetable oil to a bowl and mix.
Add several squirts of black food coloring to the mixture, followed by the glitter.
Heat the water until boiling and pour it into the bowl with the mixture.
Stir was the water cools, then mix with your hands until you get a doughy texture.
When the dough is completely cool, add more glitter, and you have yourself some homemade galaxy play dough!
*This activity requires adult supervision, as boiling water can be a hazard to young children. Play dough should not be eaten.
Video Tutorial:
Kids STEAM Questions:
What does the play dough look like?
How does the play dough feel?
What shapes can you mold the play dough into?
Looking for other great child sensory activities? Check out some of these children's activity ideas below.
New Horizon Academy is a nationally recognized early learning provider with over 90 schools in Minnesota, Colorado, Iowa, Idaho, and Kansas. Through play-based curriculum and high-quality daycare, New Horizon Academy schools nurture and prepare children to succeed in school and in life.
Schedule a tour to learn more about our highly trained teachers, safe and secure facilities, and commitment to providing the highest quality care. Contact a New Horizon Academy childcare center near you today!