Easter Egg Letter Hunt Activity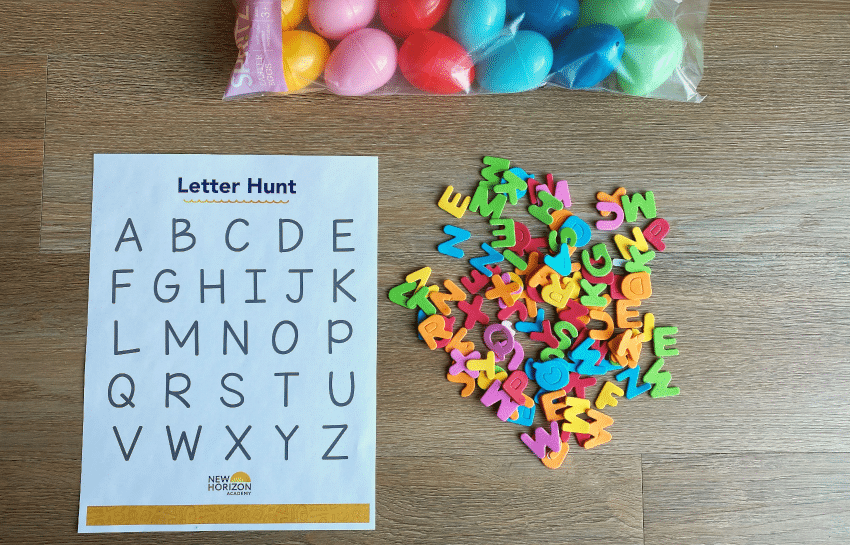 Are you looking for a fun and interactive Easter Egg hunt without all the candy and treats? We have a simple activity that will keep your child active and learning at the same time. This activity is perfect for children who are learning the alphabet and who enjoy going on egg hunts!
How to Create an Easter Egg Letter Hunt for Your Child
Supplies Needed
Foam sticker letters
Plastic eggs
Instructions
Place one foam sticker letter in each plastic egg.
Hide the plastic eggs around your yard or inside your house for your child to find.
As your child finds the eggs, have them open each egg and attach the foam sticker letter to the letter that matches the printout.
We hope you find this interactive learning activity with your family easy and fun! Visit our Family Resource Library for more interactive kids' activities, parenting tips, book recommendations, and more.
Looking for more springtime learning activities to do with your child? Here are a few to get you started!
New Horizon Academy is a nationally recognized early learning provider with over 90 schools in Minnesota, Colorado, Iowa, Idaho, and Kansas. Through play-based curriculum and high-quality daycare, New Horizon Academy schools nurture and prepare children to succeed in school and in life.
Schedule a tour to learn more about our highly trained teachers, safe and secure facilities, and commitment to providing the highest quality care. Contact a New Horizon Academy childcare center near you today!