Pot-of-Gold Race Movement Game for Kids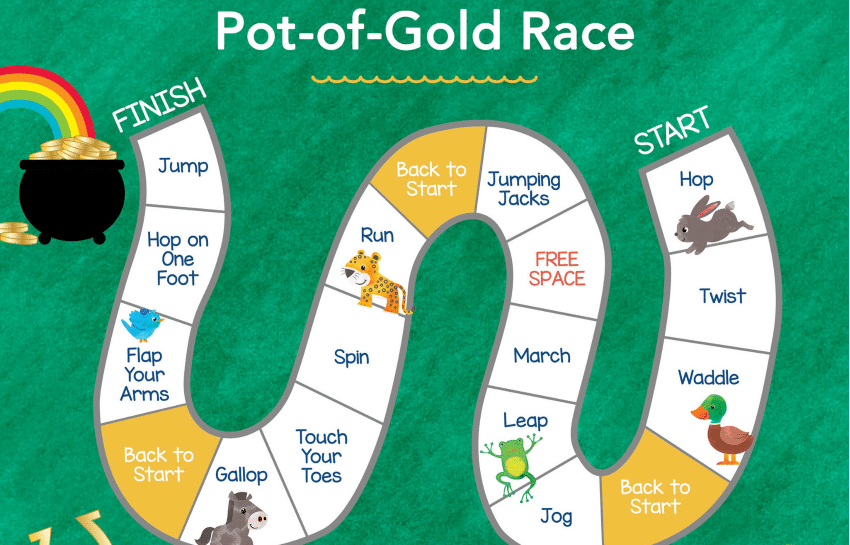 Looking for fun ways to keep your children active and moving this spring? Try this fun St. Patrick's Day-themed movement game for kids!
This Pot-of-Gold Race is the perfect activity for children to get out their energy, be silly, and use their imagination. Kids will have a blast hopping like a bunny, waddling like a duck, running like a cheetah, and galloping like a horse! This activity also teaches children about patience and following directions.
To play, children will navigate the Pot-of-Gold Race game board as they complete different actions around the room. Children will jump, march, spin, and crawl as they make their way to the end and complete this fun St. Patrick's Day challenge.
Learn how to play the Pot-of-Gold Race activity with your family below!
How to Play the Pot-of-Gold Movement Game
What You Will Need
Dice
Game piece for each player participating (This can be as simple as a coin, paper clip, or bottle cap)
Directions
Lay the Pot-of-Gold Race game board on a flat surface.
Player one will begin by rolling one die.
Player one will move their game piece however many spaces are shown on the die. The player will then, complete the movement of the space they landed on.
Each player will take turns repeating steps 2 and 3 until they reach the finish line.
The game ends once everyone reaches the finish line.
Download the Pot-of-Gold Race Game Board
Did your family enjoy this fun Pot-of-Gold Race activity? Here are other movement games we think your family will love!
New Horizon Academy is a nationally recognized early learning provider with over 90 schools in Minnesota, Colorado, Iowa, Idaho, and Kansas. Through play-based curriculum and high-quality daycare, New Horizon Academy schools nurture and prepare children to succeed in school and in life.
Schedule a tour to learn more about our highly trained teachers, safe and secure facilities, and commitment to providing the highest quality care. Contact a New Horizon Academy childcare center near you today!