Fruitie Tootie Quesadilla Snack Recipe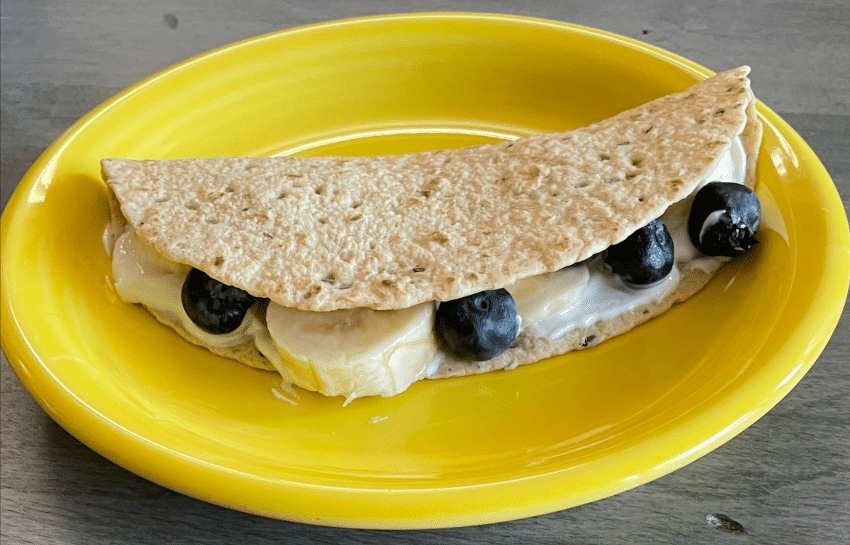 Looking for a delicious and nutritious snack for your children? This Fruitie Tootie Quesadilla is a fun and yummy way to encourage children to eat their fruit!
How to Make a Fruitie Tootie Quesadilla
Ingredients:
1 six-inch whole-grain tortilla
1 Tbsp. Sunbutter or yogurt
¼ medium banana
1 Tbsp. blueberries (you can use any fresh fruit of your choice)
Instructions:
Spread the Sunbutter or yogurt thinly over the entire surface of the tortilla.
Thinly slice the banana.
Lay the slices over one-half of the tortilla.
Sprinkle the blueberries over the same half of the tortilla.
Fold the tortilla to close over the banana and blueberries.
Enjoy!
Check out these other delicious breakfast snacks you can make with your child!
New Horizon Academy is a nationally recognized early learning provider with over 90 schools in Minnesota, Colorado, Iowa, Idaho, and Kansas. Through play-based curriculum and high-quality daycare, New Horizon Academy schools nurture and prepare children to succeed in school and in life.
Schedule a tour to learn more about our highly trained teachers, safe and secure facilities, and commitment to providing the highest quality care. Contact a New Horizon Academy childcare center near you today!