Peeps® Marshmallow STEAM Experiment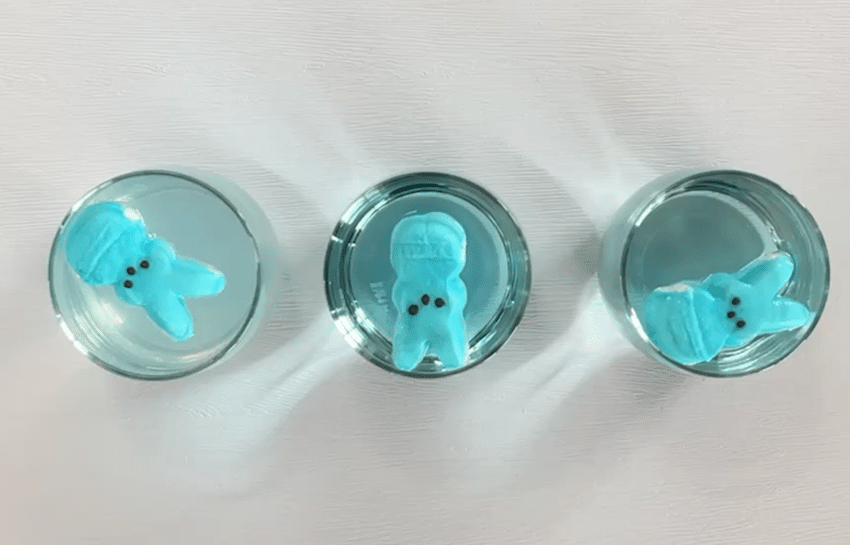 Peeps® may not be the best for your health, but the candy does make for a great experiment! Try our Peeps® experiment where your family will observe and predict what will happen to each Peep in different liquids!
How to Create a Peeps® Marshmallow Experiment
Ingredients and Materials
3 pieces of Peeps® candy
3 cups or jars
1 cup ginger ale
1 cup water
1 cup white vinegar
Instructions
Pour each type of liquid into the three cups, keeping the different liquids separate
Add one Peep marshmallow to each cup and wait at least ten minutes.
Investigate what happened to the marshmallow and the liquid! You can even take the marshmallows out of the liquids to touch and feel the differences.
Peeps® Marshmallow Video Tutorial
Questions to Ask Your Child After the Experiment
What did the different liquids do to each marshmallow?
Did any of the Peeps® sink? If so, which ones?
What happened to the color of the Peeps® and the liquid?
Wasn't this Peeps® experiment interesting? You can find similar activities in our Family Resource Library, along with craft ideas, parenting tips, book recommendations, and more.
New Horizon Academy is a nationally recognized early learning provider with over 90 schools in Minnesota, Colorado, Iowa, Idaho, and Kansas. Through play-based curriculum and high-quality daycare, New Horizon Academy schools nurture and prepare children to succeed in school and in life.
Schedule a tour to learn more about our highly trained teachers, safe and secure facilities, and commitment to providing the highest quality care. Contact a New Horizon Academy childcare center near you today!