Apple Pie Crescents Recipe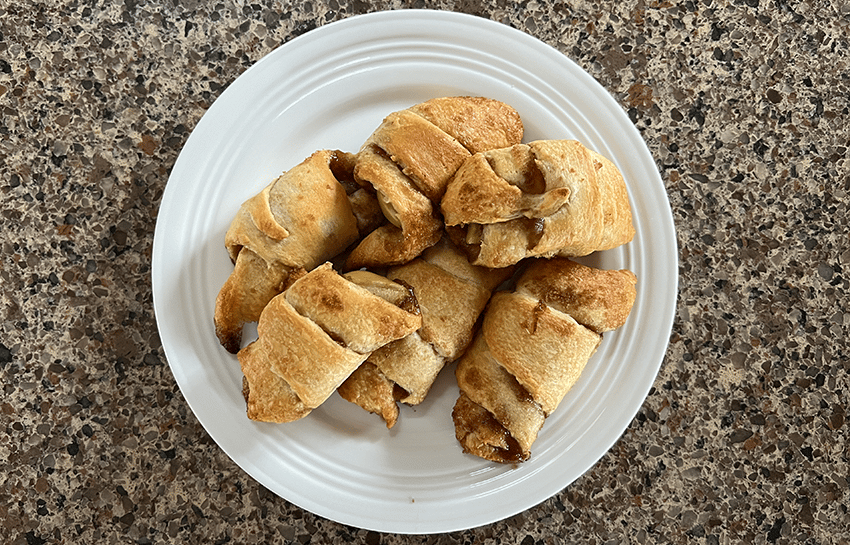 These delicious apple pie-inspired crescent roll-ups are perfect for young children because the recipe is so simple. This treat only includes five ingredients, and the family will love this treat for warm fall flavors!
How to Make Apple Pie Crescents
Ingredients
1 small Granny Smith apple, peeled, cored, and cut into 8 half-inch slices
3 tbsp melted butter
1 can (8 oz) refrigerated Pillsbury Original Crescent Rolls
⅓ cup packed brown sugar
1 tsp apple pie spice
Instructions
Heat the oven to 375°F.
Toss the pre-cut apple slices in 1 tablespoon of melted butter.
Open the dough into 8 triangles.
Mix brown sugar and apple pie spice in a small bowl and divide the mixture evenly on the triangles.
Add an apple slice to each triangle and roll the dough so the apple slice is wrapped.
Roll the dough, starting on the short side of each triangle, to wrap the dough around the apple. Brush each piece with the remaining butter.
Place a cookie on a cookie sheet and bake for 10-12 minutes.
Enjoy these delicious apple pie crescents!
Video Tutorial
For more yummy fall-inspired pastry ideas, check out some of our other recipes: