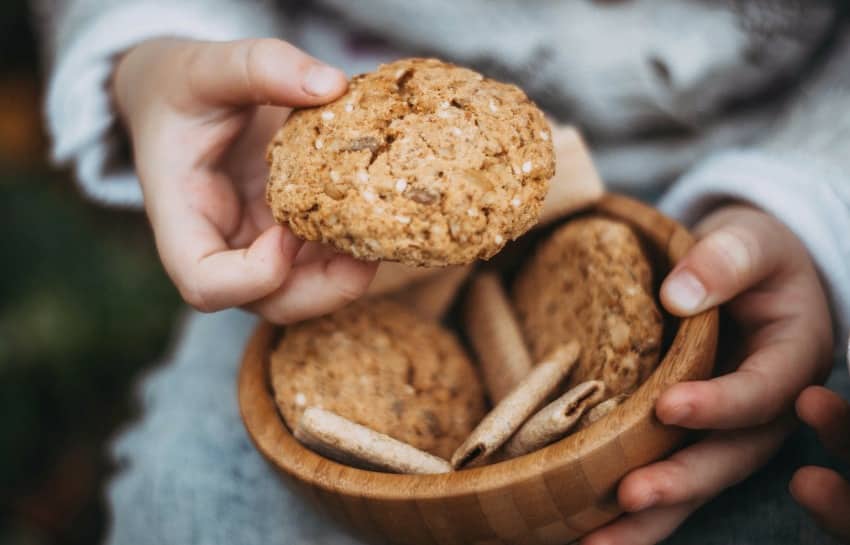 It's National Cookie Day! In honor of this day, we wanted to share a healthy cookie recipe with your family. Grab your apron, head into the kitchen, and whip up a batch of healthy oatmeal cookies with your little one.
We understand cooking and baking with your child takes a little more time, a lot more patience, and involves extra clean up, but it is totally worth it! Cooking and baking boosts language development, enhances fine motor skills, helps develop math abilities, introduces complex scientific concepts, teaches life skills, and creates lasting memories that both you and your child will treasure.
Here's everything you need to know to make healthy oatmeal cookies with your child!
Healthy Oatmeal Cookies
Ingredients
1/3 cup of honey or maple syrup (If you like sweeter cookies, use 1/2 cup)
1/4 cup of melted coconut oil
1 large egg
1 tsp of vanilla extract
1 cup of instant oats
1/2 cup of flour
1 tsp of baking powder
1 tsp of cinnamon
1/4 tsp of salt
1/4 cup of chocolate cookies
1/4 cup of raisins or cranberries
Parchment paper or aluminum foil
Large bowl
Medium bowl
Instructions
Preheat oven to 350°F.
Line baking sheet with parchment paper or aluminum foil and set aside for later.
In a large bowl, whisk together the wet ingredients: the honey, melted coconut oil, egg, and vanilla extract.
In a medium bowl, whisk together the dry ingredients: instant oats, flour, baking powder, cinnamon, salt, chocolate chips, and raisins or cranberries.
Add the dry ingredients to the wet ingredients and mix until the ingredients are dough-like.
Drop cookie dough onto the lined baking sheet and flatten to 3/4 inches in thickness.
Bake for 10-12 minutes.
Here are a few tips to boost learning and development while baking your oatmeal cookies.
Language Development
As you talk and describe what you are doing, your child develops new vocabulary words.
Fine Motor Skills
Mixing the oatmeal cookie ingredients, handling kitchen tools, and rolling the dough are all wonderful ways your child develops his fine motor skills.
Math Ability
Cooking involves a great deal of math. From measuring, estimating, and sequencing ("What is first…next…last?"), your child is exposed to a multitude of math concepts in fun and meaningful ways.
Scientific Concepts
Science is a huge part of the cooking process.
Your child will learn what happens when you mix ingredients together.
She may even learn about the changing state of matter. Yes, the changing state of matter! The simple act of melting butter provides a wonderful way for your child to learn about a solid turning into a liquid.
Life Skill Development
Cooking is a life skill. A terrific skill to help your child develop.
With each cooking activity, your child will learn important concepts of how to safely use a knife, the importance of not touching a hot stove, and how to clean up after he is done cooking.
Happy baking! Enjoy National Cookie Day!
New Horizon Academy is a nationally recognized early learning provider with over 90 schools in Minnesota, Colorado, Iowa, Idaho, and Kansas. Through play-based curriculum and high-quality daycare, New Horizon Academy schools nurture and prepare children to succeed in school and in life.
Schedule a tour to learn more about our highly trained teachers, safe and secure facilities, and commitment to providing the highest quality care. Contact a New Horizon Academy childcare center near you today!