Ramadan Wall Hanging Craft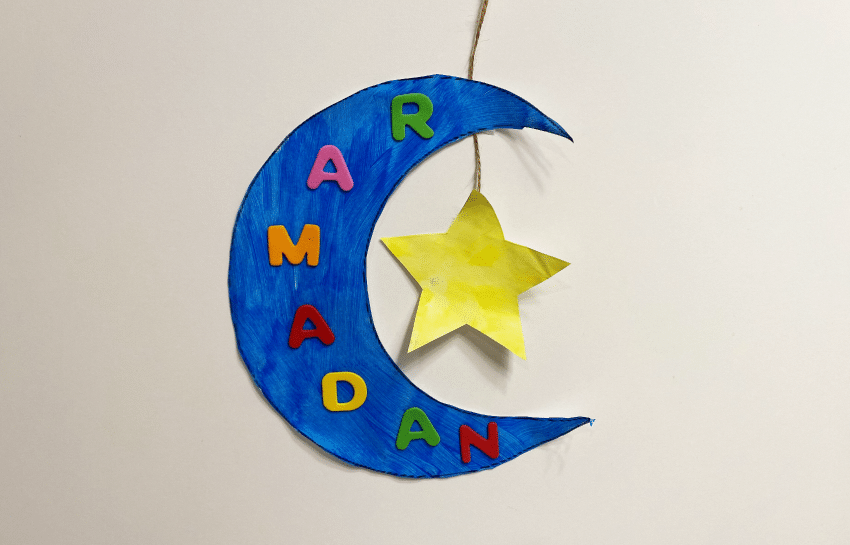 Are you looking for a fun Ramadan craft to do with your child? We at New Horizon Academy have a fun and easy craft that your child will be sure to love!
How to Make a Ramadan Wall Hanging Craft
Supplies Needed
Paper plate
Scissors
Letter foam stickers (to spell Ramadan)
Yellow paint
Blue paint
Paintbrush
Ribbon or string
Small hole puncher
Instructions
Help your child draw a crescent moon shape on your paper plate.
Draw a star shape in the opening of the crescent moon.
Cut out the moon and star shapes.
Paint the moon blue and paint the star yellow.
Once the shapes are dry, take the paper backing off the foam letters and place them on the paper plate to spell Ramadan.
Use a hole punch to create a small opening at the top of your crescent moon.
Hole punch a hole at the top of your star.
Pull your ribbon or string through both holes, connecting the moon and star. The star should hang in the opening of the moon.
Tie a knot in the back of the star to prevent the string from slipping.
Hang your decoration on display!
Looking for more great ways to celebrate Ramadan with your child? Check out these 4 children's books to help your child learn more Ramadan!
New Horizon Academy is a nationally recognized early learning provider with over 90 schools in Minnesota, Colorado, Iowa, Idaho, and Kansas. Through play-based curriculum and high-quality daycare, New Horizon Academy schools nurture and prepare children to succeed in school and in life.
Schedule a tour to learn more about our highly trained teachers, safe and secure facilities, and commitment to providing the highest quality care. Contact a New Horizon Academy childcare center near you today!