How to Make a Kid-Friendly Charcuterie Board Using Muffin Tins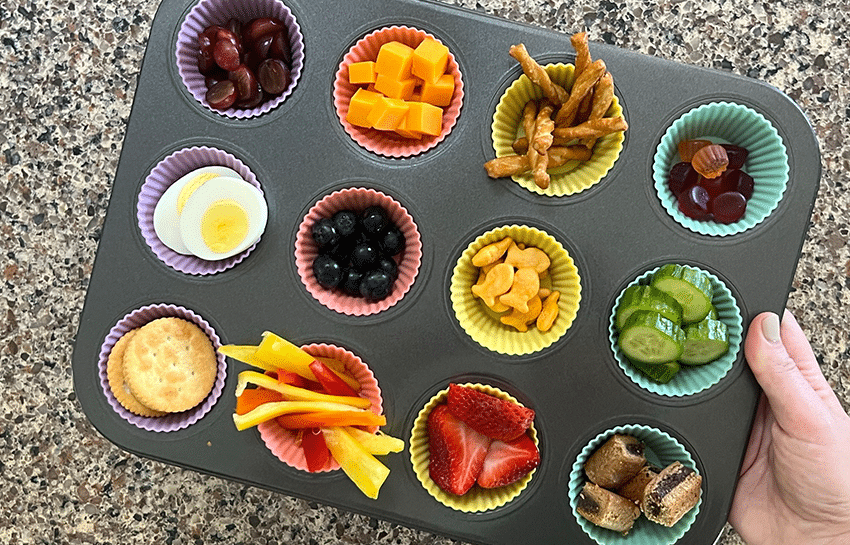 Build a kid-friendly charcuterie board using a muffin tin! Charcuterie boards are a great way to display multiple snacks and appetizers for hosting or simply wanting a fuss-free dinner. Your children will love snacking on their favorite fruits, veggies, and other foods using this fun display, and even selective eaters will love picking at this charcuterie board! Make an easy, muffin-tin charcuterie board for your next family picnic or kids' birthday party!
What is a Charcuterie Board?
It sounds like a made-up word, but it means a way of serving appetizers or snacks on a display board, which are then eaten straight from that board or, in this case, a muffin tin.
How to Build a Kid-Friendly Charcuterie Board
Muffin Tin Charcuterie Board Materials:
Muffin tin
Muffin tin liners
Variety of nutritious snacks (see ideas below)
Groups of Food to Include:
Fruits
Veggies
Proteins
Carbs
Fats
Charcuterie Board Ingredient Ideas:
*Please see food safety guidelines below.
Red grapes
Cheddar cheese
Pretzels
Fruit snacks
Hard boiled eggs
Blueberries
Strawberries
Goldfish crackers
Cucumbers
Ritz crackers
Bell peppers
Snack bars
We like adding a variety of colors, textures, and flavors to our muffin tin charcuterie boards. However, feel free to select any snacks of your choice. You can even involve your child in the decision making process!
Instructions:
Set out a muffin tin and place liners in each muffin cup for easy cleanup.
Place each ingredient in a cup to display the snacks separately.
Set the muffin tin out and watch your children enjoy the multiple snacks!
Muffin Tin Charcuterie Board – Video Tutorial
Did your family try making this kid-friendly charcuterie board? Tell us below which snacks your family enjoyed the most!
Children's Food Safety Guidelines:
Grapes are a choking hazard for children under the age of 4 years.
Do not serve hard snacks, such as pretzels, to children under the age of 2 years.
Sticky candies, such as fruit snacks, are a choking hazard.
Do not serve eggs to infants.
Blueberries are a choking hazard for children under the age of 12 months.
Cucumbers should be peeled and sliced for children ages 2 and under.
Do not serve raw vegetables, such as bell peppers, to children under the age of 2 years.
*WARNING: Choking hazard for children under 2 years of age
Follow these safety tips to keep your child safe from choking:
Adult supervision is required for all children.
Choose snacks that are age-appropriate for your child.
The following is not made for children under the age of 2 years old.
If you are looking for more fun and creative ideas like this, we have more interactive kids' activities, parenting tips, and book recommendations in our Family Resource Library. There is so much to learn and experience as a family!
Here are a few more of our favorite ways to make your child's snacks fun!
New Horizon Academy is a nationally recognized early learning provider with over 90+ schools in Minnesota, Colorado, Iowa, Idaho, and Kansas. Through a play-based curriculum and high-quality daycare, New Horizon Academy schools nurture and prepare children to succeed in school and life.
Schedule a tour to learn more about our highly trained teachers, safe and secure facilities, and commitment to providing the highest quality care. Contact a New Horizon Academy childcare center near you today!