Grow a Rainbow Paper Towel Experiment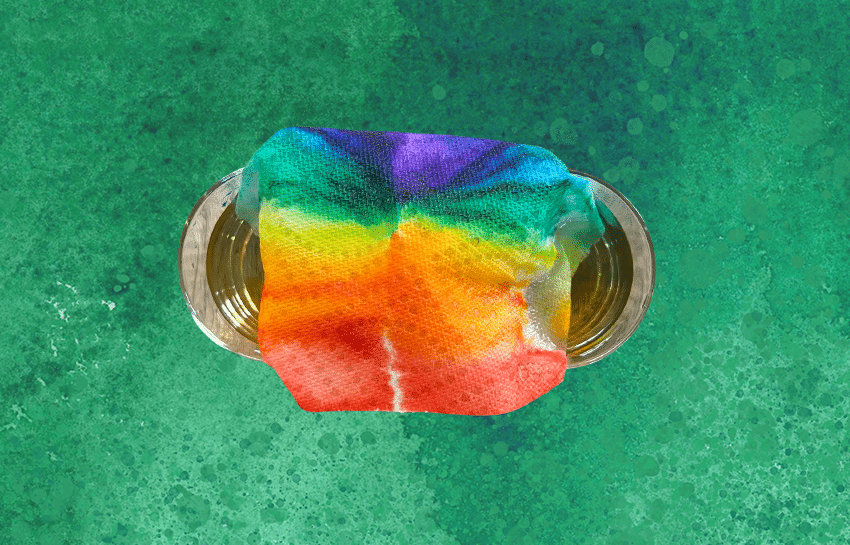 Amaze your children with this colorful STEAM experiment and grow a rainbow in minutes! This simple activity is great for young children to do at home.
How to Grow a Rainbow at Home
Materials:

Paper towel
Washable markers
Water
Clear drinking glasses
Instructions:
Fold the paper towel in half horizontally.
Cut ⅓ of the paper towel off so the rainbow has less distance to travel.
Draw the rainbow colors at the end of the paper towel in rectangles and repeat on the other end so that the colors match.
Fill the glasses with water until they are about ¾ full.
Place the two ends of the paper towel into the cups so that half of the colored part is submerged in the water.
Watch as the colors travel the paper towel, creating a rainbow!
Grow a Rainbow – Video Tutorial
Questions to Ask Your Child After the Experiment:
How long did it take for the colors to start traveling through the paper towel?
Did the colors change the color of the water?
Why do you think the marker colors move through the paper towel?
Did you enjoy this easy and fun STEAM activity? There's more where that came from! Visit our Family Resource Library for more interactive kids' activities, parenting tips, book recommendations, and more.
Explore some of our other fun STEAM experiments that allow children to experience some rainbow magic!
New Horizon Academy is a nationally recognized early learning provider with over 90+ schools in Minnesota, Colorado, Iowa, Idaho, and Kansas. Through a play-based curriculum and high-quality daycare, New Horizon Academy schools nurture and prepare children to succeed in school and life.
Schedule a tour to learn more about our highly trained teachers, safe and secure facilities, and commitment to providing the highest quality care. Contact a New Horizon Academy childcare center near you today!