Skittles Rainbow Science Experiment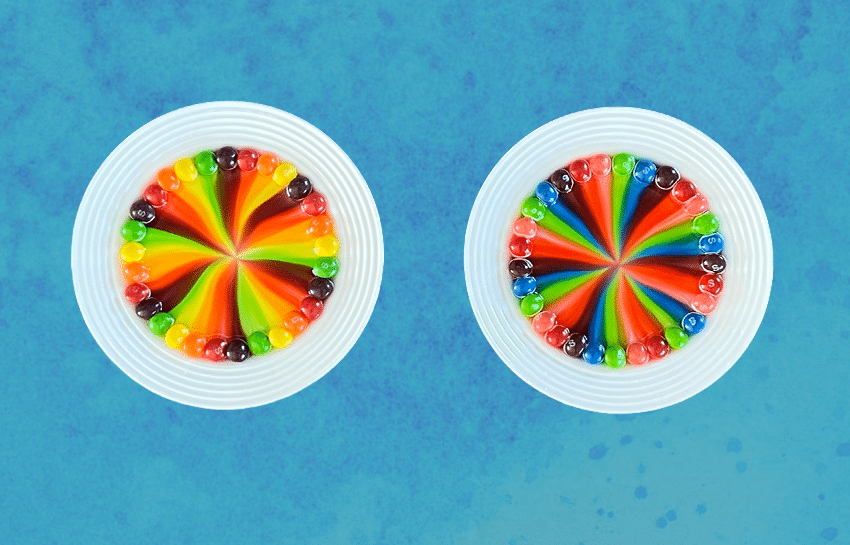 Create your own rainbow at home using Skittles! This kids STEAM experiment is an easy, fun, and hands-on way to let your child create their own rainbow.
How to Make a Skittles Rainbow
Materials Needed:
Skittles*
White Plate
Hot Water
Instructions:
Create a rainbow circle with the Skittles around the edge of the plate.
Slowly pour the hot water into the center of the plate, but make sure the water is touching the Skittles.
Wait and watch the Skittles colors move towards the center of the plate, creating beautiful rainbow streaks.
*Careful adult supervision is required for this activity, as Skittles can be a choking hazard for young children.
Questions to Ask Your Child After the Experiment:
What happened when you poured the water?
What happened to the Skittles?
What colors appeared in the water?
We hope you try this simple science experiment with your child! Visit our Family Resource Library for more interactive kid's activities, parenting tips, book recommendations, and more.
New Horizon Academy is a nationally recognized early learning provider with over 90 schools in Minnesota, Colorado, Iowa, Idaho, and Kansas. Through play-based curriculum and high-quality daycare, New Horizon Academy schools nurture and prepare children to succeed in school and in life.
Schedule a tour to learn more about our highly trained teachers, safe and secure facilities, and commitment to providing the highest quality care. Contact a New Horizon Academy childcare center near you today!