Bagel Fruit Pizza | Easy Kid's Breakfast Recipe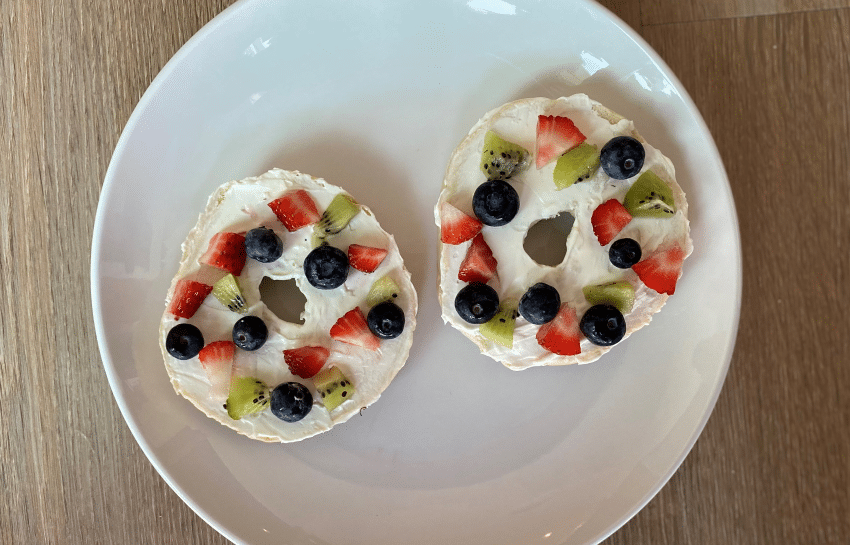 Bagel Fruit Pizzas are a delicious and healthy snack that your child will be sure to enjoy, and they can even help prepare! This breakfast or snack is super easy to make and only takes a few ingredients.
How to Make Bagel Fruit Pizza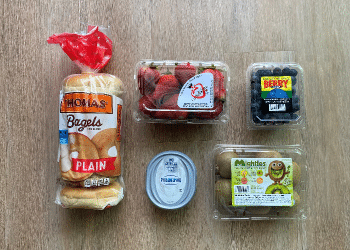 Ingredients
Bagel
Cream cheese
Toppings of your choice (we used strawberries, blueberries, and kiwi)
Instructions
Toast bagel if desired.
Spread cream cheese onto the bagel.
Cut up the fruit into small chunks.
Top your bagel with cut up fruit.
Enjoy!
We recommend giving your child a blank bagel with cream cheese and then letting them "decorate" their bagel with the toppings of their choice.
We hope you enjoy this yummy recipe with your family! Visit our Family Resource Library for more interactive kids' recipes, activities, parenting tips, book recommendations, and more.
Looking for more kid-friendly recipes to encourage your children to eat fruit? Here are a few of our recommendations.
New Horizon Academy is a nationally recognized early learning provider with over 90 schools in Minnesota, Colorado, Iowa, Idaho, and Kansas. Through play-based curriculum and high-quality daycare, New Horizon Academy schools nurture and prepare children to succeed in school and life.
Schedule a tour to learn more about our highly trained teachers, safe and secure facilities, and commitment to providing the highest quality care. Contact a New Horizon Academy childcare center near you today.