How to Build a Garden Sensory Bin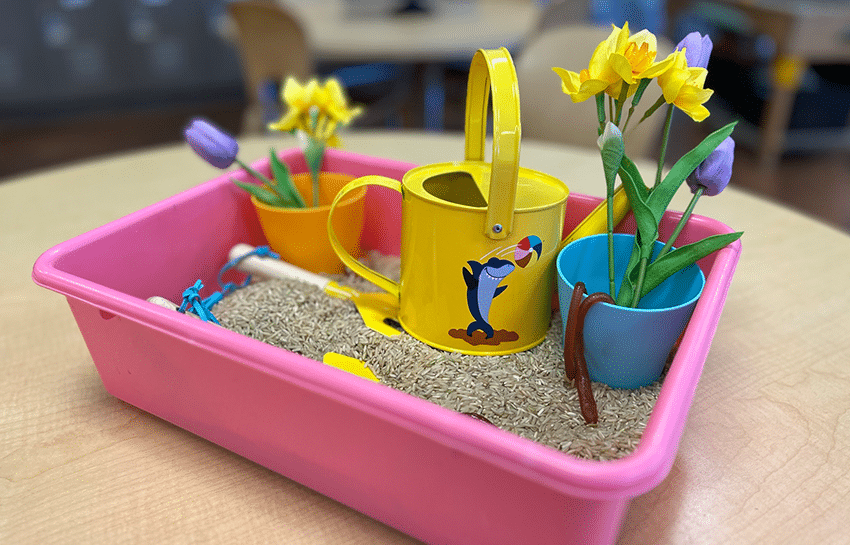 Join us in building this cute garden sensory bin that is easy to assemble and excellent for toddlers+. Sensory bins are a great way for children to explore their senses and learn through play. They can provide various benefits, including developing gross and fine motor skills, calming effect, social-emotional development, cognitive development, and more!
There are endless possibilities when it comes to creating sensory bins for children, and there is most definitely one that is perfect for your child's interests and needs.
How to Build a Garden-Themed Sensory Bin
Materials:
Sensory Bin
Brown Rice
Rubber Worms
Small Planting Pots
Fake Flowers
Hand Gardening Shovel
Hand Gardening Rake
Small Watering Can
Instructions:
Pour the brown rice to resemble the dirt into the bin.
Place your pots in the rice and toss in the worms.
Place your flowers in the pots.
Add your gardening hand rake, shovel, and watering can.
There you have it – a beautiful gardening sensory bin that will keep your child occupied for hours!
Garden Sensory Bin – Video Tutorial
If you and your child enjoyed making this simple sensory bin, we have more interactive kids' activities, parenting tips, and book recommendations in our Family Resource Library. Here are a few of our favorites:
Subscribe to New Horizon Academy on YouTube to see your newest STEAM projects and activities!
New Horizon Academy is a nationally recognized early learning provider with over 90+ schools in Minnesota, Colorado, Iowa, Idaho, and Kansas. Through a play-based curriculum and high-quality daycare, New Horizon Academy schools nurture and prepare children to succeed in school and life.
Schedule a tour to learn more about our highly trained teachers, safe and secure facilities, and commitment to providing the highest quality care. Contact a New Horizon Academy childcare center near you today!