Fizzy Rainbow STEAM Experiment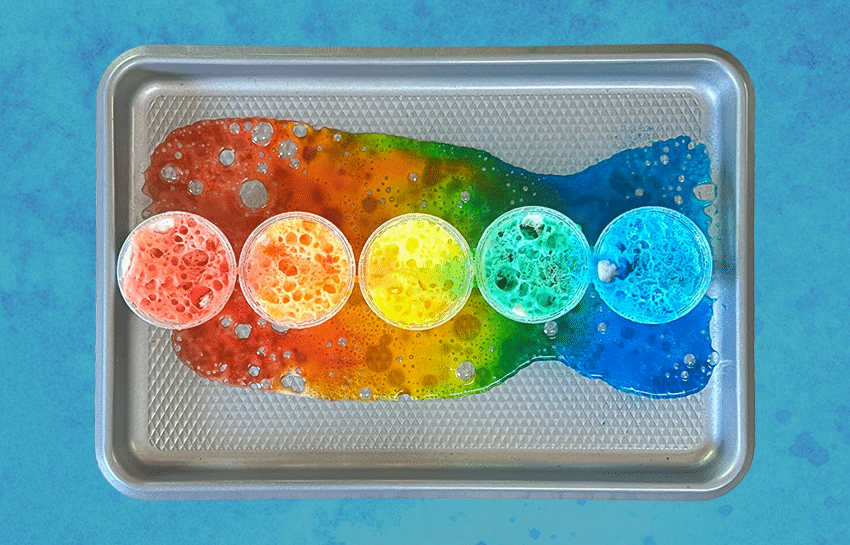 This STEAM activity is a colorful, fizzy experiment that is perfect for an easy indoor activity!
How to Make Your Own STEAM Fizzy Rainbow at Home
Materials:
2-ounce cups
Baking soda
Vinegar
Tray
Food coloring
Instructions:
Line up the 2-ounce cups on a tray and fill each ¾ full of baking soda.
Add a few drops of food coloring to each cup, creating a rainbow effect.
Mix the food coloring and the baking soda so it is evenly distributed.
Pour vinegar into each cup.
Watch as the colors explode!
Questions to Ask Your Child:
What happened to the mixtures when the vinegar was added?
Were different colors created after the vinegar was added? If so, what colors?
What created the explosion of colors?
Fizzy Rainbow – Video Tutorial
What did you think of this STEAM experiment? If you want to try other STEAM activities, visit our Family Resource Library for more interactive kids' activities, parenting tips, book recommendations, and more. Here are a few of our favorites:
New Horizon Academy is a nationally recognized early learning provider with over 90+ schools in Minnesota, Colorado, Iowa, Idaho, and Kansas. Through a play-based curriculum and high-quality daycare, New Horizon Academy schools nurture and prepare children to succeed in school and life.
Schedule a tour to learn more about our highly trained teachers, safe and secure facilities, and commitment to providing the highest quality care. Contact a New Horizon Academy childcare center near you today!