Studies show that job satisfaction is one of the most important factors in choosing a new career.  But not only is it important to choose a job you will love, but also a job that loves you back. Employees will stay at a job much longer if they feel valued and appreciated in their role. At New Horizon Academy, our teachers and staff will feel the constant love and support from their fellow team members, directors, assistant directors, district managers, and home office staff. Not to mention, you will feel all the love from the kiddos each day working as an early childhood teacher. Becoming an infant, toddler, preschool, or school-age teacher comes with all of the perks, and it's comforting to know you have a career in which so many young children admire and look up to you. Become a childcare teacher today at New Horizon Academy and work where you're loved!
Top 10 Ways Childcare Teachers Will Feel LOVED at New Horizon Academy
1. Support From Team Members

At New Horizon Academy, you will always be supported by our excellent team of childcare leaders and experts. Our company has a huge team of employees whom all work together towards the same goal: providing the best early childhood education for young learners. Your support system is a growing team that consists of fellow teachers, kitchen managers, school directors, assistant directors, district managers, and home office staff. Have a question? Ask your peers! Our teachers and staff ­­­­­are always there to support one another. Having a bad day? Lean on your team members! We are here to listen and support you. Having a great day? Working with other teachers who share a love and passion for early childhood education is so rewarding. Fellow teachers share all the smiles, laughs, and positive experiences that come with working in childcare each and every day.
2. Various Teambuilding Opportunities
We are one big team at New Horizon Academy. We believe it is important to continue building and strengthening our school family. That's why we host regular team meetings and offer numerous professional development opportunities throughout the year that allow you to connect with your peers, celebrate your successes, share your feedback, and grow as a childcare teacher.
3. Praise and Positive Feedback
In any job role, it is important to hear that you are doing a great job. Working as a childcare teacher is hard work! Everyone deserves words of encouragement and recognition for a job well done. Your peers and school leaders are there to support you and give praise and positive feedback on your good days and bad days. Not to mention, our daycare kiddos are also huge givers of words of affirmation. Children love to tell you that you are their favorite teacher, that they want to be just like you when they grow up, and that you are AWESOME!
4. Educational Support

Professional growth is an important aspect of many careers. At New Horizon Academy, it is not required to have a college degree in order to start your teaching career. However, we fully support your professional development and offer great programs to cover educational costs for employees that want to go back to school and earn their degree in early childhood education. New Horizon Academy provides 100 percent coverage for employees to earn their CDA or AA degree in early childhood education. We also offer generous scholarship opportunities for employees who want to earn their bachelor's or master's degrees within the field. Learn more about educational reimbursement opportunities here.
5. Variety of Great Benefits
Having a career in childcare comes with the obvious perk of getting to work with children every day. But aside from working with kids, New Horizon Academy also offers a variety of great benefits. To name a few, New Horizon Academy offers:
Generous childcare discounts
401(k) plans with employer match
Employer-sponsored health insurance
Fair base pay
Paid time off
Advancement opportunities
And more!
Visit our careers page to learn more about employee benefits, opportunities, and support you will receive while working at New Horizon Academy!
6. Opportunities for Growth
If you want to take your career to the next level, New Horizon Academy is the place to be! There are endless opportunities for growth within the company, and we love and support our employees' goals to further their career development. Our teachers and staff are provided access to training, education, and professional development as they pursue their goals and continue to grow in their careers.
7. Workplace Equality
As part of our DEIB Commitment, New Horizon Academy is committed to ensuring that our working and learning environments are welcoming and inclusive to all. We believe diversity, equity, inclusion, and belonging are the main components of making New Horizon Academy successful. As a member of our NHA family, it is important that you feel a sense of equality in our schools and know that you have an important voice that will be heard.
8. Birthday and Anniversary Celebrations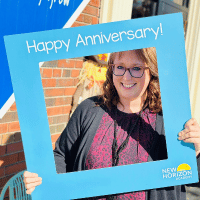 Who doesn't love to be celebrated on their birthday or career anniversary? Teachers play the biggest role in making our award-winning daycare centers the very best they can be. The least we can do is thank you for your successes and celebrate you on important milestones. Every employee brings new and valuable ideas to our team, and we thank our staff for their many years of love, dedication, and commitment to our children. On these special days, we love featuring our teachers and staff members on social media!
9. Appreciation From Families
As a daycare teacher, you spend your days with young children during some of the most important times of their lives. While parents are at work, they want to know their child is in a safe, clean, and supportive learning environment. Without our wonderful teachers, there would not be the excellent care and child development there is today, and parents thank you for that. Parents are quick to thank our teachers for all the love and learning they provide to their children, and there is so much appreciation to go around. Read some of the wonderful things our New Horizon Academy families have to say about our teachers and schools.
10. Love From Children

And last, but certainly not least, is all the love you will receive from the children at New Horizon Academy. As an early childhood teacher, children look up to you. You are their hero! While some days may be challenging, at the end of the day, working with children is so rewarding. Teachers receive many hugs, smiles, and compliments from our infant, toddler, preschool, and school-age friends every day. Knowing that you play such a crucial role in children's early childhood and development is so fulfilling. You are sure to feel loved working at New Horizon Academy.
As the saying goes, it takes a big heart to shape little minds. Becoming an early childhood teacher at New Horizon Academy means opening "new horizons" of self-esteem and potential for the little people entrusted to our care. Become a daycare teacher today and work where you're loved!