Mini Chicken Pot Pie Recipe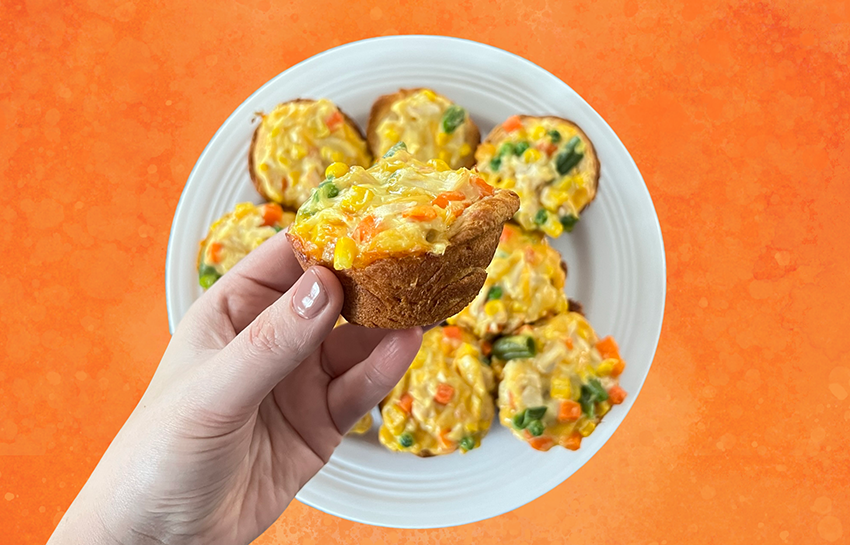 If you are a chicken pot pie lover, you can now enjoy the meal in a mini size! This kid-friendly mini chicken pot pie recipe is easy, only using a few ingredients, and it is a delicious option that even a picky eater will love.
How to Make Mini Chicken Pot Pies
Ingredients and Materials:
1 cup diced chicken
1 bag of mixed frozen vegetables
1 can of cream of chicken soup
Refrigerated Pillsbury biscuit dough
½ cup shredded cheddar cheese
Muffin tin
Instructions:
Defrost the frozen bag of vegetables and chop the chicken.
Mix the cream of chicken soup, shredded cheese, mixed vegetables, and chicken.
Separate the biscuits and place them into the greased muffin tin.
Using your fingers, press down the dough to thin it out, resembling the pie crust.
Add two tablespoons of the mixed filling inside each cup.
Bake the pot pies at 375° for 20-25 minutes.
Enjoy your mini chicken pot pies!
Video Tutorial:
For more kid-friendly recipe ideas, check out: