Coffee Filter Turkey Craft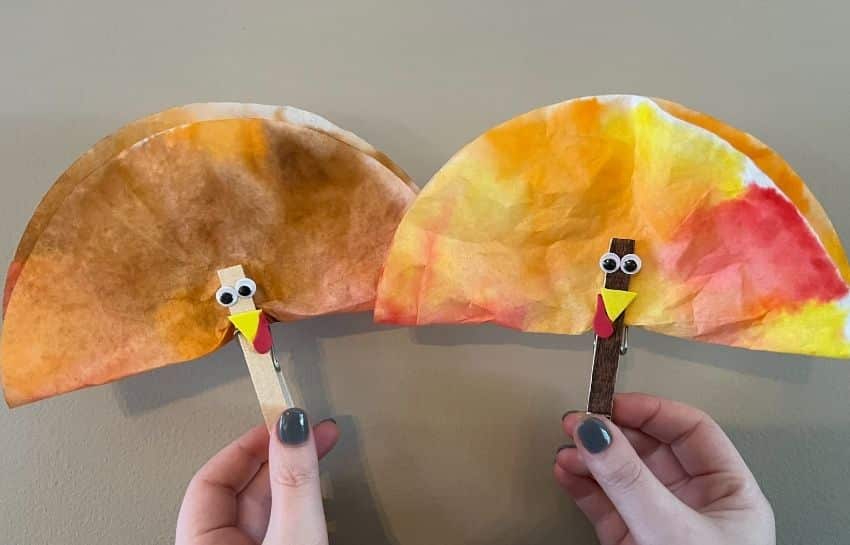 Need an easy Thanksgiving craft for the kids to make? These coffee filter turkeys are easy to create and take 20-30 minutes to complete with only a few supplies. We hope you enjoy making your flock!
Materials Needed
Coffee Filters
Washable Markers
Wooden Clothespins
Red and Yellow Craft Foam
Wiggle Eyes
Glue
Scissors
Spray Mister Filled with Water
Instructions
Flatten round coffee filters and apply several colors of washable markers in a variety of patterns.
Place a colored coffee filter on a craft mat or zipper bag and spritz with water to watch the magic! Set aside to dry.
Clip the clothespins on a scrap of cardboard and paint all sides with brown craft paint and paintbrush. Set aside to dry.
Attach wiggle eyes to the top of each clothespin using a glue gun with a fine tip applicator.
Cut a triangle beak from yellow craft foam and a squiggly waddle from red craft foam with scissors. Attach under wiggle eyes using a glue gun with a fine tip applicator.
Fold the dry coffee filters in half and crinkle slightly to fluff.  Insert the coffee filter into the top clip of the clothespin.