Employee Spotlight: Tracey Douthard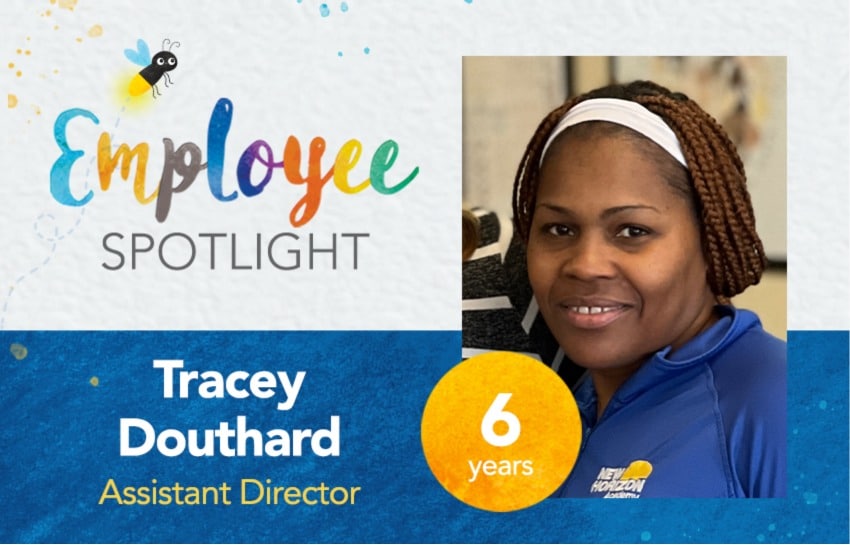 Name: Tracey Douthard
Current Job Title: Assistant Director
Years With New Horizon Academy: 6 years
Past Job Titles: Assistant Teacher, Mentor Teacher, Lead Teacher
Interview with Assistant Director: Tracey Douthard
Starting Your Career at New Horizon Academy
Tracey first began her career at New Horizon Academy after re-locating from Chicago, Illinois. She had worked in the childcare industry for over 25 years and was almost certain she didn't want to continue. She was ready to try a different career field. However, soon after she moved, Tracey received a call from the hiring team at New Horizon Academy, who offered her an interview for a teaching position. After interviewing, Tracey was offered an Early Childhood Education teaching role. Although not her original plan, as soon as she started working with the children, Tracey knew she wanted to stay.
Starting Your Education Journey with New Horizon Academy
"For those that think they can't do it, let me tell you – you can do it!"
As Tracey was working at New Horizon Academy, she was encouraged by the current school director to get her Child Development Associate® (CDA), so she could become a Lead Teacher. Tracey was hesitant at first about going back to school, but decided to take the challenge and earn her CDA. Tracey mentioned that by her already being so hands-on as a teacher at New Horizon Academy, the schooling wasn't as difficult as she thought, as she was already familiar with everything that was being taught.
After she earned her CDA, the school director encouraged her to take her education one step further and get her associate degree. Tracey's fellow team members assured her that they would help her along the way, so Tracey took the new challenge to get her associate degree. Before even finishing her associate's, Tracey was again encouraged to go for her bachelor's degree right after. Tracey was determined to continue furthering her learning; "I'm going to keep going. I'm going as high as I [can] go because I enjoy working with kids."
Working at New Horizon Academy
"It's like a family here." Tracey states how she loves that New Horizon Academy will not only encourage employees to go back to school, but also pay for their education. Tracey talks about how beneficial it is to utilize New Horizon Academy's support system to reach your goals. "It's never too late", she says. Tracey has even encouraged her daughter to do the same. Tracey's daughter now also works at New Horizon Academy and has gone back to school to further her education in early childhood.
Watch Tracey's full interview on YouTube.