Employee Spotlight: Emilia Smith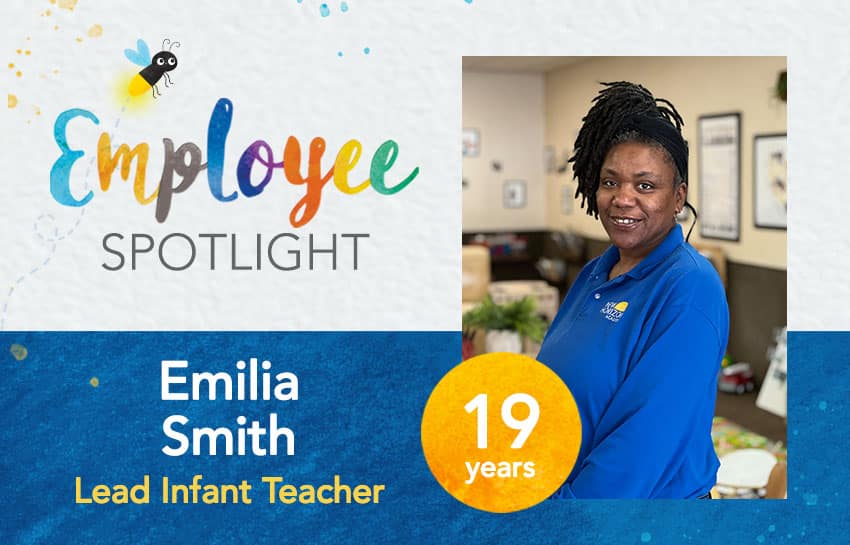 Name: Emilia Smith
Current Job Title: Lead Infant Teacher
Years With New Horizon Academy: 19 years
Past Job Titles: Lead Toddler Teacher, Lead Preschool Teacher, Teachers Aide
Interview with Emilia Smith
Starting a Career at New Horizon Academy
Emilia started her career at New Horizon Academy after moving from Tulsa, Oklahoma, where she was working as a paraprofessional. Knowing that she wanted to continue working with children, Emilia decided to look for jobs within the childcare industry. She began looking through her phonebook to find a nearby childcare center that was hiring. The New Horizon Academy logo caught her eye, so Emilia applied, was hired, and started her career as an early childhood education teacher. 19 years later, Emilia is still loving her career as a teacher at New Horizon Academy.
Advancing Your Education at New Horizon Academy
As she was working as a teacher, Emilia was encouraged by her supervisor to continue her education and earn her CDA (Child Development Associate). Before going back to school, she applied for New Horizon Academy's Bill Senior Scholarship and was the first employee to ever receive this scholarship. After earning her CDA, Emilia decided she wanted to take her education even further and get her associate degree as well. Emilia will earn her associate degree this December.
Favorite Part of Being a New Horizon Academy Teacher
Emilia describes New Horizon Academy as an outstanding company with a great support system. Emilia explains how much she loves working with kids and all the great relationships she's build with children and their families throughout the years.
Watch Emilia's full interview on YouTube.