How to Do Yoga with a Baby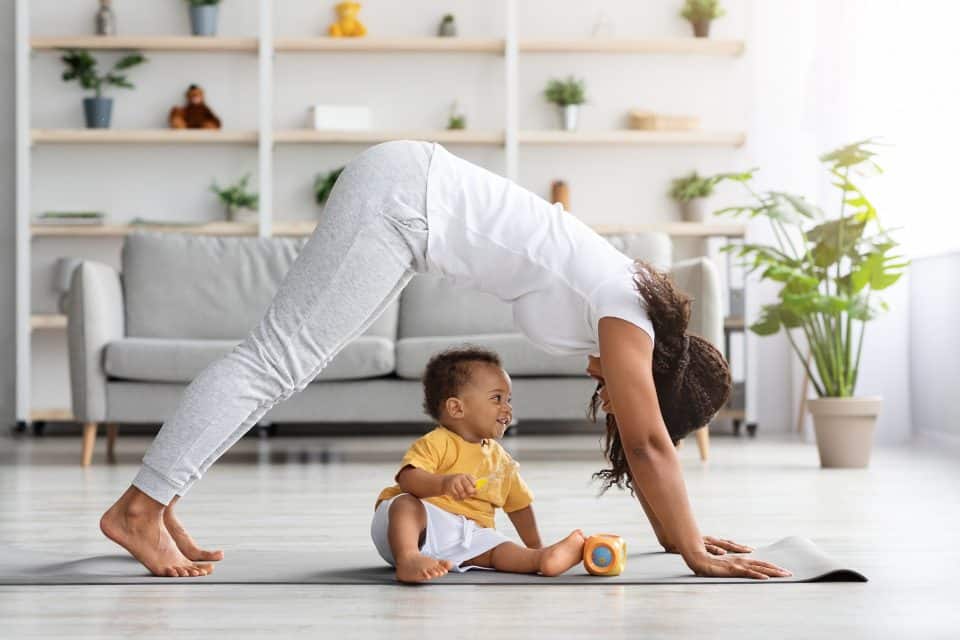 You're never too young to start doing yoga. In fact, even your baby can practice yoga!
Yes, babies can practice yoga with you – and yoga has significant benefits for both you and your child. Continue reading to learn some of the many ways doing yoga with kids and babies can boost physical and mental health.
The Benefits of Doing Yoga with Your Baby
Yoga with babies supports neuromuscular development, body awareness, and self-confidence. Baby yoga provides sensory-motor stimulation, which enhances infant brain development during the critical first years. Because activities that cross the midline of the body, such as crawling, coordinate both hemispheres of the brain, yoga helps with the brain-body connection. And yoga can help soothe babies who suffer from colic, gas, or sleep issues.
In addition, yoga is a wonderful opportunity for bonding between babies and their caregivers. Yoga provides one-on-one cuddle time, and studies have shown that the more cuddle time you share with babies before rest, the more likely they are to sleep. Breathing together is a wonderful way to ease the transition into sleep or to calm crying babies.
Download Our Free Baby Yoga Guide
At New Horizon Academy, our experienced childcare teachers incorporate yoga activities into their daily lesson plans in all classrooms, from infant to toddler to preschool and beyond. Yoga is often used in our calming corners to help children regain their emotional and physical self-control.
We thought you would enjoy practicing some of these activities at home, too! We've created baby yoga cards broken down by age to help guide you and your infant through your yoga practice. Download the cards for free below!
Want to practice yoga with your toddler or preschooler? Check out a few of our favorite animal yoga moves for kids!
New Horizon Academy is a family-owned early learning provider with over 90 schools in Minnesota, Colorado, Iowa, Idaho, and Kansas. Through play-based curriculum and high-quality daycare, New Horizon Academy schools nurture and prepare children to succeed in school and in life.
Schedule a tour to learn more about our highly trained teachers, secure facilities, and commitment to providing the highest quality childcare and early education. Contact a New Horizon Academy daycare near you today!