7 Reading Activities Your Toddler Will Love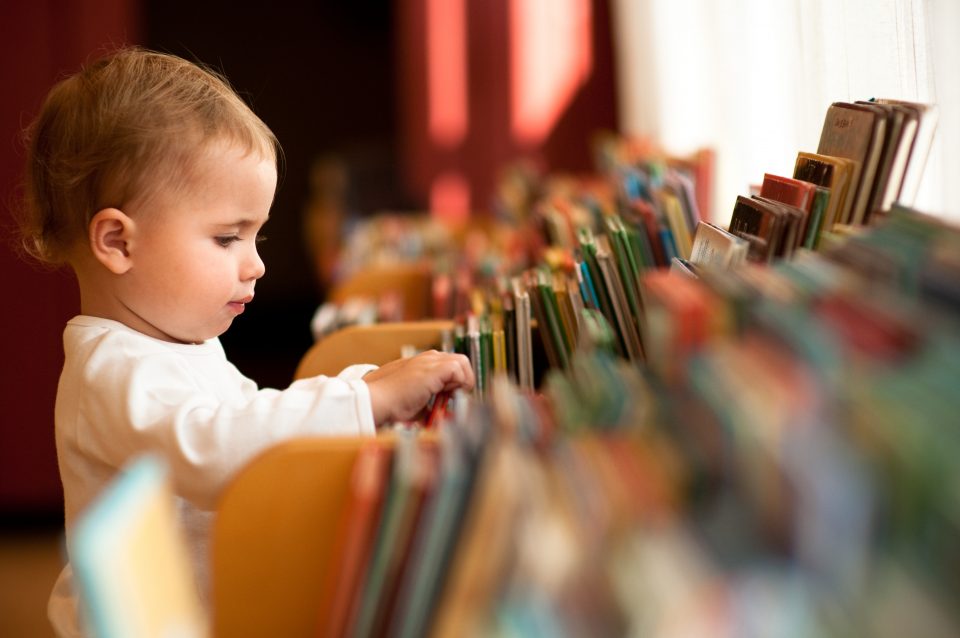 Chicka Chicka Boom Boom 
By Bill Martin Jr.
Featured Vocabulary: tree, run, mom, dad, uncle, aunt, help, cry, sun, moon 
Build Vocabulary! Point to each letter as you say its name. This builds a connection between print and spoken word, developing a deeper understanding that both print and words have meaning.

 

Let's Get the Rhythm! Encourage your child to clap out the rhythm of the words. This story is very rhythmic and can be transformed into a musical experience.

 

Ask Questions! Draw attention to examples of cause and effect in the story: "What happened to the tree when all the letters tried to climb up it?" Why did the tree bend over?"

 

Go Explore! Take a walk through the neighborhood and count how many trees you see. Explore the different physical characteristics of each tree (tall, short, shape, color, etc.)

 
Goodnight Moon 
By Margaret Wise Brown
Featured Vocabulary:  chair, bear, kitten, mitten, house, mouse, red, green 
Go on a Scavenger Hunt! Create a list of objects found in the book with your child and search for those objects in your home. Count how many objects you found compared to the number of items in the book.

 

What Came First? Teach your child sequencing concepts by sorting  objects in the order they appeared in the story.

 

Rhyme Time! Rhymes are words that sound the same at the end. Which words sound the same at the end? Which words do not sound the same at the end? Can you think of any other words that rhyme with a word?

 

Get Crafty! Create a moon out of tinfoil; mix up a batch of Moon Slime; or engineer your own telescope using paper towel tubes! 

 
The Going To Bed Book 
By Sandra Boynton
Featured Vocabulary: sun, bath, pajamas, brush teeth, moon, bed, light, sleep 
What Comes First? What is your child's bedtime routine? Have your child draw pictures depicting their bedtime routine. Teach your child sequencing concepts by working together to organize the pictures in the order they happen at home.

 

 Get Crafty! Have an extra toothbrush and some paint? Allow your child to explore different types of drawing utensils, such as toothbrushes, spoons, forks, etc. This will increase your child's grip strength and fine motor control while having the opportunity to create and explore.

 

Science Time! Bath time is a great time for sensory exploration: popping bubbles, splashing water, and pouring water out of cups. Water play is fun that can be had anytime! While in the highchair, provide your child with a small amount of water in a cup or bowl and allow them to play and explore.

 


Corduroy 
By Dan Freeman
Featured Vocabulary: bear, store, girl, mother, sad, bed, button, pull, home, friend 
What Do You See? This book is filled with lots of familiar objects that can be found around our homes. As you read the story, point to different objects and say its name, or ask your child what they see. This will build your child's vocabulary and strengthen their receptive and expressive      language skills.

 

Sensory Fun! Your home is filled with a variety of textures from fabrics to flooring, and pillows to  plants. Explore the different textures in your home by collecting objects and discussing how each texture feels on our skin (bumpy, rough, smooth, soft).

 

Let's Count! How many buttons are on your clothes? As you dress your child, count out the buttons on their clothing as well as your own. Who has more? Who has less? This will increase your child's understanding of number concepts and operations, as well as the concept of quantity.

 
Little Blue Truck 
By Alice Schertle
Featured Vocabulary: blue, truck, toad, sheep, cow, pig, horse, duck, hen, push 
Sensory Fun! Make your own homemade mud using materials around your home (dirt from the yard, flour from the kitchen, or pudding from the fridge). Mix in a little water to create the right consistency, and allow your child to touch and explore the "mud" with their hands and toy cars/trucks.

 

Let's Count! Take a walk outside and count the trucks that go driving by. Talk about the trucks as they drive by: What kind of job does that truck do? What color is it? Was it going fast or slowly? Where do you think the truck is going?

 

Learning To Help! Talk to your child about ways the animals and trucks helped each other. Extend the conversation by discussing ways your family can be helpful to each other at home.

 

Use Your Imagination! Place your child in an empty laundry basket and "drive" them around your home. Make truck sounds (beep, vroom, screech) as you maneuver your child around your home.

 


There's A Bear On My Chair 
By Ross Collins
Featured Vocabulary: bear, chair, hair, pear, share, scare, wear, where 
Rhyme Time! Rhymes are words that sound the same at the end. Which words sound the same at the end? Which words do not sound the same at the end? Can you think of any other words that rhyme with  a word?

 

What's That Emotion? Ask your child questions about Mouse's emotions: "How do you think Mouse feels? Why do you think that? What words can Mouse use to tell Bear how he feels?" The ability to identify and label emotions is the first step in the journey of self-regulation. As often as you can, talk to your child about different types of emotions: what it looks like, how it feels inside our bodies, what words we can say, or things we can do to describe how we are feeling.

 

Taking Turns! Play a ball game of turn taking with your child. Roll the ball to your child saying, "Your turn", then encourage your child to roll the ball back to you saying, "My turn". Repetition of this activity not only encourages large motor strength and coordination, but also develops an understanding of social rules and turn-taking skills.                               

 
If You Give A Mouse A Cookie 
By Laura Numeroff
Featured Vocabulary: mouse, cookie, milk, hair, house, nap, book, refrigerator, thirsty, draw 
Get Crafty! Make a mouse puppet using items from around the house, such as an old sock or a paper lunch bag. Decorate the puppet using whatever materials you can find around your home.

 

Be a Storyteller! Once you have created your mouse puppet, use it to retell the story, or allow your child to "retell" the story with their puppet.

 

Let's Get Cooking! Involve your child in the process of baking cookies. Children can help in the kitchen by pouring measured ingredients into a bowl, stirring with a spoon, and helping scoop batter. Children can count out spoonfuls of ingredients, explore texture (wet vs. dry), and observe scientific concepts in action as they watch cookie dough transform shape and texture in the oven.