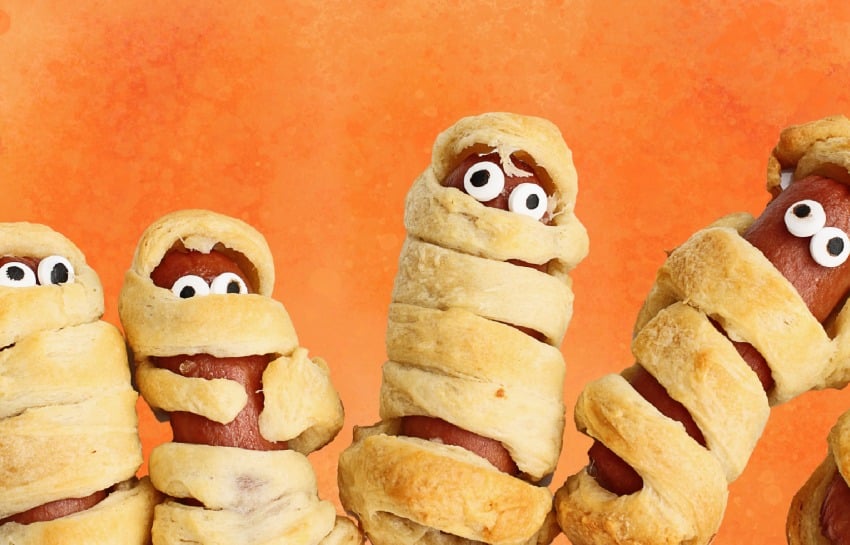 Mummy dogs are a classic Halloween recipe that adds a little fun to dinner or makes the perfect addition to a party! Children love the spooky spin on the classic pigs in a blanket recipe, and mummy dogs will be sure to bring on a smile.
How to Make Halloween Mummy Hot Dogs
Ingredients
Hot Dogs
Pillsbury Crescent Roll Dough
Edible Eyes
Ketchup or Mustard
Instructions
Preheat the oven to 375° F.
Open your crescent roll dough and unroll it so that it is a horizontal rectangle.
Cut the dough into ¼-inch-wide strips from top to bottom so the stripes are long enough to cover the hotdog.
Wrap the pieces of dough around each hot dog crisscrossing and letting it overlap. Do not cover the hot dog completely. Leave gaps so it looks like a mummy peeking out from its bandages.
Place each wrapped hot dog on a baking sheet and then bake for 10-12 minutes or until the dough looks golden brown.
Remove the mummy dogs from the oven and place a small dot of ketchup or mustard on the back of your candy eyes and add 2 to each mummy. (If you do not want to use candy eyes, you can draw eyes by adding a couple of dots of ketchup or mustard to the mummy dog where the eyes would go.)
*This activity is appropriate for children ages 4 and up.*
Video Tutorial
If you're looking for a quick and easy kid-friendly meal to make before your family goes out trick-or-treating, be sure to try mummy dogs!