4 Children's Books to Celebrate Native American Heritage Month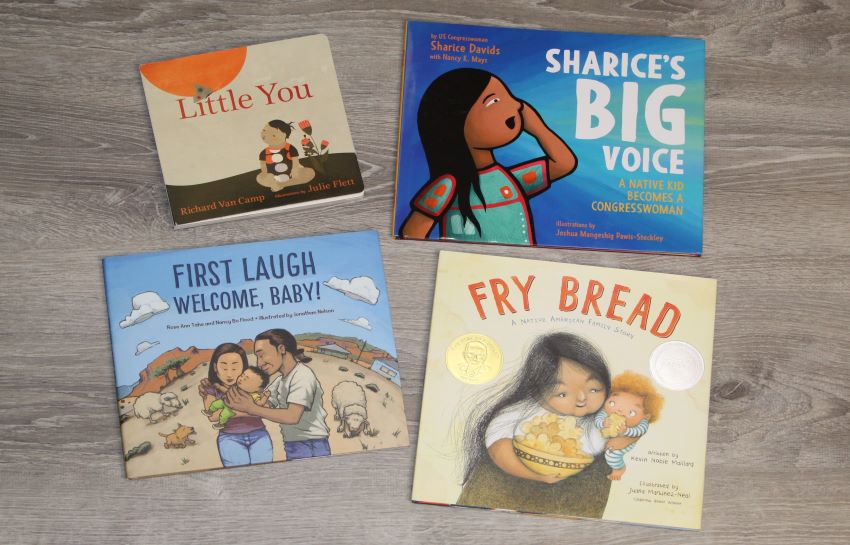 November is Native American Heritage Month. It is a time to celebrate the culture, traditions, accomplishments, and contributions of the people who were the first inhabitants of the United States.
4 Children's Books to Read for Native American Heritage Month
As we celebrate Native American Heritage Month, we wanted to share a few of our favorite books about the Native American community. Here are four books your infant, toddler, preschooler, and school-ager will enjoy!
Little You
Author: Richard Van Camp
Through the loving eyes of a parent, this heartwarming story celebrates the joy babies bring to their family and the world. As you read the story, share with your little one how they are a wonder to you.
This book is certain to become a family favorite.
Fry Bread: A Native American Family Story
Author: Kevin Noble Maillard
This award-winning picture book tells the history of fry bread in the Native American history. Your family will savor the rich descriptions included in the book and may even be inspired to create your own batch of fry bread using the recipe included in the book.
Your family will enjoy learning about this delicious dish.
Sharice's Big Voice: A Native Kid Becomes a Congresswoman
Author: Sharice Davids
This book tells the story of how Sharice Davids made history in becoming one of the first two Native American women elected to Congress, and the first openly LGBTQ person to represent the state of Kansas.
Your family will appreciate this powerful story.
First Laugh: Welcome Baby!
Author: Rose Ann Tahe
In Navajo families, the first person to make a new baby laugh hosts the child's First Laugh Ceremony. The First Laugh Ceremony is a child's official welcome to a family and clan.
Your family will delight in learning about Navajo life and traditions. You'll also enjoy seeing each family member try to get the baby to laugh. Who do you think will make the baby laugh?
Explore our book recommendations to celebrate and discuss the traditions and cultures of Indigenous people.
You can easily access these books by using the free Libby App, to borrow eBooks, audiobooks, and more from your local public library.