12 Tips to Navigate You Through Long Road Trips with Young Children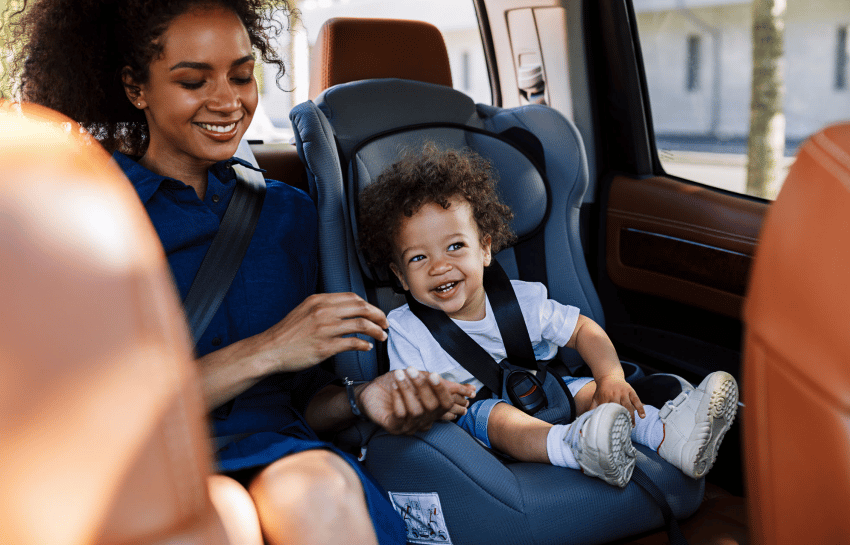 It is no doubt that road trips can be a lot of fun. However, road trips can also sometimes be stressful, especially when you are travelling with young children or driving long distances. Whether you are travelling for the holidays, a summer vacation, or to visit a grandparent, these 12 tried-and-true travel tips were designed to ease the stress of long car rides for the whole family.
1. Plan Your Road Trip Ahead of Time
Road trips can get long. And remember, if you think a car ride is long, your child will think so too. One way to account for this is to prepare for your trip in advance. Plan your journey accordingly with your child's schedule. Utilize Google Maps to estimate driving time and remember to allow extra time for weather, traffic, rest stops, or other potential hiccups along the way. If your drive is over six hours, you may want to consider leaving in the middle of the night or early in the morning so your child can sleep in the car.
2. Schedule an Appropriate Amount of Bathroom Breaks
Bathroom breaks are a must on family road trips! When planning your trip, remember to schedule enough time to account for multiple stops along the way. Planning breaks will allow your family to use the restroom, stretch your legs, fill up on gas, and enjoy some fresh air after spending quite a bit of time in the car. If you are passing through a large city or interesting landscapes, plan your stops near these areas to give your child lots of things to look at and make the stop more interesting for them.
3. Allow Your Children as Much Personal Space as Possible
If you are travelling with multiple children, it is a good idea to give each child as much space as possible. While this can be difficult in a small vehicle, ample space can be beneficial for preventing fighting, arguments, and tears. Many kids get antsy during long trips. By having two or more antsy kids, it can be common for children to stop getting along while travelling. It is best to keep the peace for as much time as you can, so separating children in the car can be a good idea.
4. Have an Emergency Travel Kit Ready at All Times
You never wish for emergencies while travelling. While no emergencies are ideal, it is still best to be prepared for different scenarios in case things do not go exactly the way you planned. One way to prepare is to make an emergency travel kit. An emergency travel kit could be as simple as a Ziploc bag filled with supplies such as first aid kits, medicine, hand sanitizer, tissues, paper towels, or phone chargers. Of course, you can add anything else you would like to this kit as well. Just remember, accidents happen, and you will thank yourself later if you pack necessary supplies for potential spills, tummy aches, scrapes, and more.
5. Let Children Pack Their Own Bag
Backpacks filled with fun activities can be a child's best friend on long car rides. Before your family embarks on your journey, encourage your child to pack a small backpack filled with some of their favorite things. Let them pack toys, books, stuffed animals, electronics, etc. in their bags. Before you leave, it is a good idea for you as a parent to look over the things they are bringing to make sure the items are appropriate, car-friendly, and packed in moderation. For example, you could limit your child to choosing one item in each category – one toy, one book, one stuffed animal, one electronic, and so on. If you are allowing your child to pack electronics, remember to limit their screen time while in the car.
6. Bring Healthy Snacks
Who doesn't love yummy snacks on a road trip? If you are planning for a long ride in the car, bring healthy snacks…and ration them, especially if your road trip is hours long. You will need to remember that you may get hungry as time goes on, so you won't want to eat all your snacks right away. To plan for this, give your child a small snack every 1-2 hours, depending on the length of your trip. Remember you are still in a car, so you do not want to bring messy snacks. We recommend preparing easy snacks ahead of time and placing them in air-tight containers to preserve their freshness. You may also want to bring a small cooler if the snacks you are bringing need to be chilled. Some healthy snack ideas for a road trip include granola bars, cheese sticks, pre-cut fruits and veggies, drinkable yogurt, or crackers.
7. Prepare Fun Car Games
Make car rides fun for the whole family with car games! Not only are car games interactive, but you can also make the games educational! Dive into a game of I Spy while using your senses and talking about what you see outside. If your child is already reading, encourage them to practice reading some of the billboards and road signs through The Alphabet Game. You can even get creative and make up your own car games as a family. If you are looking for some inspiration, here are some ideas for 8 brain-building games to play in the car.
8. Find Activities to Help Children Grasp How Much Time is Left
As a parent, you need to be prepared for all the "are we there yets" and "how much longers". When you are in the car for long periods of time, the car ride can seem like a lifetime for young children. It is more difficult for kids to grasp time and sense of direction, so remember to be patient as your children ask you how much longer is left in your journey. You can even turn this into a game to help your children understand the passing and telling of time. For example, divide your road trip into intervals. Give your child a watch or digital clock and tell them to pay attention to the changing numbers. Every time the numbers to the right of the colon read 30 or 00, have them ask you what city you are currently in. You could also incorporate snack time into passing time. Tell your child they will get a small snack every hour. If your trip is three hours, for example, tell your child that it will take three snacks before you reach your final destination.
9. Make a Playlist
Music is another great activity to enjoy on a long road trip! Music, of course, is also best to be enjoyed in moderation, as it is also good to have some quiet time. However, it can be fun for the whole family to enjoy some of your favorite tunes. Make a playlist that includes songs the whole family enjoys. You can also turn the radio to a local station if you do not have time to make your own playlist. Listening to kid-friendly audiobooks is another great educational way to pass the time.
10. Account for Nap and Quiet Time
While music and activities can be fun, it is also good to plan for some quiet time in the car as well. Naps are a wonderful way to break up long trips in a vehicle. If you can coordinate this nap time with your child's regular nap schedule, that is even better to keep children in a (somewhat) routine. Pass your child a blanket, turn off any music, put away any toys and activities, and enjoy some quiet napping time. Remember that sometimes it can be difficult for people to sleep in cars, so if napping is not possible, have a designated quiet time where there is no noise in the car. Quiet time could also make for great reading time or time for looking out the window.
11. Ride in the Backseat with Your Kids
Road trips can be a great opportunity to spend quality time with your family as you are spending hours together in a car. If you are travelling with another adult, while one adult is driving, the other can even join your child in the backseat to keep them company. Babies and young children love playtime, so they will be thrilled if you sit next to them and give them your attention, even if it is only for a short period of time.
12. Remember that SAFETY IS FIRST
Lastly and most importantly, safety is always the number one priority on a family road trip. Before you leave, ensure that everyone is buckled up safely and that children are in age-appropriate car seats. As you drive, talk to your children about the importance of car safety. Teach them to always wear a seatbelt, be aware of your surroundings, and never distract a driver.
Drive safely and enjoy your road trip!