In honor of World Book Day, we would like to share a few of our favorite books about nature.
The Tiny Seed By Eric Carle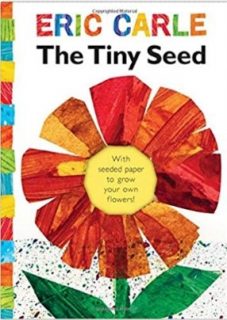 Your entire family will enjoy Eric Carle's classic story of the life cycle of a flower as told through the adventures of a tiny seed.
Your child may be inspired to plant their very own seed and watch it grow.
City Green By DyAnne DiSalvo-Ryan
This book tells the inspirational story of Marcy, a young girl who lives in the city and works to turn an empty lot into a garden. She inspires the entire community to join her in her endeavor.
Your family may be inspired to begin a garden in your community.
Things I Can Do To Help My World By Melanie Walsh
This beautifully illustrated book is full of simple, everyday ways we can be kinder to the earth. Your child will enjoy reading the book and learning about ways she can help her world.
This book may serve as a kickoff of your own family's journey to help the world.
Grandpa's Garden By Stella Fry and Sheila Moxle
This book tells the story of Billy, a young boy who helps his grandfather plant and harvest his vegetable garden. This seed to table story beautifully illustrates the excitement of watching things grow.
After reading the story, you may find yourself eager to plant your own vegetable garden.
Kenya's Art By Linda Trice and Hazel Mitchell
After a visit to a recycling art exhibit, Kenya is inspired to create her own art using recycled materials. Kenya shares this idea with her classmates and teaches them how to Recycle! Reuse! Make Art!
This book may serve as inspiration for some fun recycle and reuse art in your home.
George Saves the World by Lunchtime By Jo Readman and Ley Horner Roberts
In this book, George's grandfather teachers him about recycling. Then George goes on an adventure to recycle.
Your child will enjoy the fun story and cute illustrations, and may even be inspired to recycle, just like George.