Teaching Kids How to Set Goals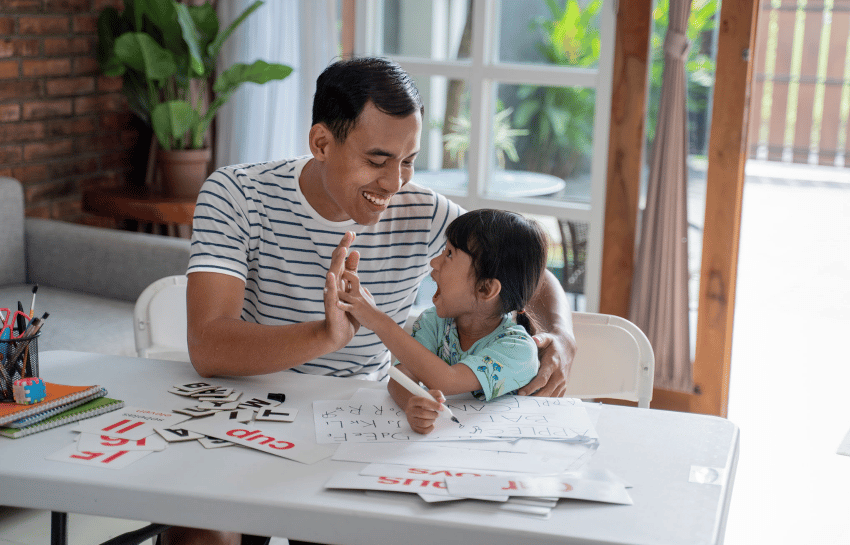 Setting goals and achieving dreams is something that we do all throughout our life. Even children start setting goals and dreaming big at a young age. As a parent, your child has probably shared many of their goals with you, whether that be what they want to be when they grow up, or a new hobby or skill they're determined to try. It is so important that we as adults are able to teach, encourage, and support children in reaching their goals, big and small.
The steps below break down the ways you can teach your children how to set goals.
1. Set a Goal
Step one to teaching children about setting goals is creating the goal. In order to achieve a desired outcome, there must be a desired outcome. First, you should talk with your child about some of the goals they may have. You can start this conversation by asking your child questions such as, "What do you want to be when you grow up?" or "What is something new that you would like to learn?".
Your child should set this goal on their own. Goals are most likely to be achieved when they are created by the person that is going to be achieving them. This is why it is important for your child to establish an objective that interests them. Your job as a parent is to initiate and guide the conversation. For example, when a child tells you, "I want to be a teacher someday," turn that into an opportunity to move the conversation into making it a goal and talk about ways they can become a teacher someday.
You can also start a conversation about goal setting with your child by reflecting on strengths and weaknesses. First, acknowledge some of the things your child is doing well. For example, if your child recently learned how to ride a bike with training wheels, praise them! If your child is discouraged by the fact they want to ride a "big-kid bike", help them turn that wish into a goal that they can achieve next!
2. Help Your Child Make Their Goal Attainable
After your child has determined a goal, help them make the goal achievable. Oftentimes kids can have big dreams that are unrealistic. For example, your child may tell you, "When I grow up, I want to be a dinosaur!" or "I want to learn how to fly." While you do not want to discourage their dreams and ruin the magic, what you can do is help turn these hopes into goals that are possible.
If your child loves dinosaurs, maybe you suggest a goal of reading five books about dinosaurs by the end of the month. If their mind is set on learning how to fly, suggest maybe they can become a pilot someday. And in the meantime, encourage them to make it a goal to learn more about pilots.
Other times, children's goals may be realistic, but currently very far out of reach, such as "I want to be the President of the United States." This would be a great example of a situation where you can help your child turn this long-term goal into a short-term goal. If your child is interested in becoming the president because they want to help people, talk to them about other ways they could help people in the meantime. Maybe your child can make it their goal to help out a friend or volunteer at school.
There are lots of different ways to make goals achievable. It is important that you never tell your child that their goal is impossible. Instead, encourage your child when setting goals and help them find ways to make their biggest dreams attainable.
3. Create an Action Plan
The next step is to create an action plan, to help your child meet their goal. A great way to create an action plan is by helping your child break their end goal up into mini-goals. This is because reaching goals is commonly a multi-step process. Breaking goals up into different parts can also help continue to motivate your child along the way, as they accomplish different steps.
Of course, there are many ways to create mini-goals, but here is one example. If your child's goal is learning how to count to 100, break this up into 5 different mini-goals to reach along the way. Their first goal could be to learn how to count to 20. After that, they would work on counting to 40, then 60, and so on, all the way to 100. Creating these different steps can make the end goal seem less intimidating and easier and faster to reach.
4. Set Checkpoints and Offer Incentives
Most achievements do not happen overnight. Achieving a goal is something you continuously work on. Lots of people have dreams that even take years to accomplish. This is why it is important to set regular checkpoints to check in with your child's progress.
Ask your child how they are doing. Depending on how long the goal will take to complete, you could check in every week, every other week, or even every day to see how they are doing. The mini-goals that you created in the last step go hand-in-hand with checkpoints.
If you are reviewing your child's progress, and they have achieved one of their mini-goals, celebrate! Working toward a goal is hard work and takes a lot of time. Your child will feel encouraged and motivated as they pass new checkpoints and receive small incentives for work well done.
5. Offer Support
Encourage, encourage, encourage. Working toward a goal is hard work! It is easy to get discouraged if you do not see the results you are hoping for as fast as you would like. Kids especially can get frustrated if they do not reach their goal right away. Always remind your child that you are there to support them. Support your child during their wins and also during their frustrations. If they feel stuck or discouraged, offer ways you can help them.
No matter what, remind your child they are doing a great job, and that you are proud of them for trying new things. With support from family, friends, teachers, and peers, your child will be able to accomplish anything they set their mind to!

New Horizon Academy is a nationally recognized early learning provider with over 90 schools in Minnesota, Colorado, Iowa, Idaho, and Kansas. Through play-based curriculum and high-quality daycare, New Horizon Academy schools nurture and prepare children to succeed in school and in life.
Schedule a tour to learn more about our highly trained teachers, safe and secure facilities, and commitment to providing the highest quality care. Contact a New Horizon Academy childcare center near you today!