Simple Ways to Support Your Child with Temper Tantrums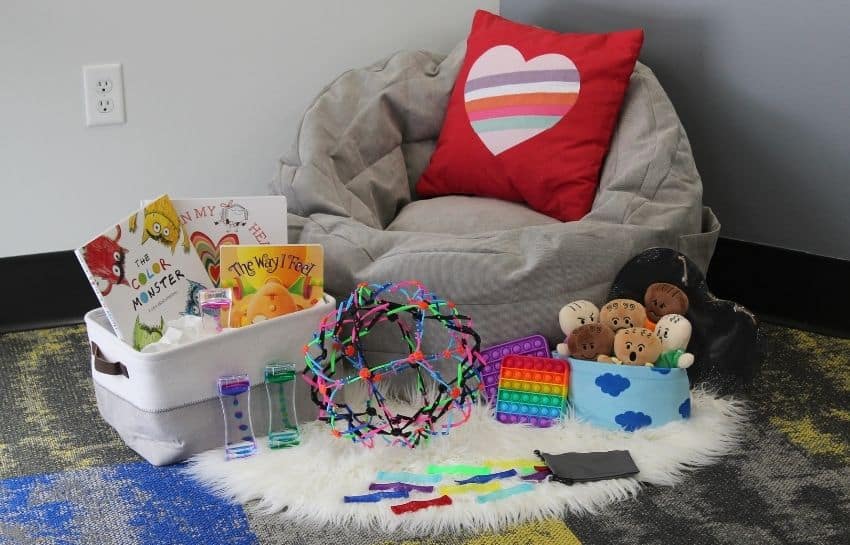 Does your child have temper tantrums or struggle to calm down when upset? The teachers at New Horizon Academy have ideas to help children of all ages—infants, toddlers, preschoolers, and school-agers—navigate big emotions and learn to self-regulate.
Learning to navigate big emotions is a learned skill. Think zipping a coat, putting on shoes, or brushing teeth. Once a child is ready to learn how to manage their emotions, they can learn strategies that help them when emotions run high.
Create Your Own Calm Corner
The teachers at New Horizon Academy recommend creating a calm down corner. A calm down corner is a special place in your home designed to be a safe place for your child to go when they are upset, their emotions are running strong, or they need to regain control. The calm down corner isn't the same as putting your child in a time out. It is a place they can go to calm down when they notice their emotions are getting out of control. The space promotes breathing, mindfulness, and reflection. The calm down corner helps your child develop emotional regulation, self-control, and helps them feel safe and secure. It provides them with strategies that help them manage their emotions.
The calm down corner doesn't need to be fancy or require purchasing new materials. The teachers are New Horizon Academy recommend:
Designate an area for the calm down corner.
Create a warm, comforting environment in your calm down corner.
Add calming materials to the area, such as:
Books about Emotions and Feelings
Feelings Chart (Print the New Horizon Academy Calm Corner Feeling Chart.)
Calming Glitter Jars (It's easy to make, just use our DIY Calming Glitter Jar instructions to make your own.)
A bean bag chair or cozy chair
Breathing Ball
When Should You Use It?
We asked our teachers at New Horizon Academy about the best time to use the calm corner, and here are their suggestions.
Before your little one has a meltdown. – The best time to use the calming corner is before things intensify. When you see your child is about to have a temper tantrum, redirect them to the calm down corner. The calm down corner shouldn't be used as a punishment or consequence. It should be an area where you child is supported. Direct your child to the calm down corner in a supportive manner. "It sounds like you are getting frustrated. Let's go to the calm down corner so that you can feel better."
When your child is upset or feels stressed out. – The calming corner is a great place to visit when your little one is feeling upset or stressed out. It provides them with an opportunity to explore their feelings and implement strategies to help them work through them.
How Do You Use the Calm Down Corner?
Implement feelings check-in. – Once you and child are in the calm down corner, conduct a feelings check-in. Show your child the feeling chart and talk about how they are feeling.
Try a calming strategy. –  Read a book about feelings, use a breathing ball, take deep breaths, or watch the calming glitter jar to regulate feelings and calm down. These activities provide your child with something to focus on as they process their emotions and serve as a way help them sooth themselves and calm down.
Check in with your little one – When your little one has calmed down, it is a good time to check in and talk about how they are feeling. Talk about how they felt before they went into the calm down corner and how they felt after they went into the calm down corner. For example: "I saw you use the breathing ball and taking deep breaths. How did that make you feel? Did you find it helpful in regulating your feelings?
Using the calm down corner will help you support your little one as they navigate big feelings.
For more information on helping your child through temper tantrums, listen to our Meltdowns episode of the Parenting Pickup Podcast where we discuss strategies your family can use together:
Listen on your favorite platforms: