Pepper Germ Handwashing Experiment for Kids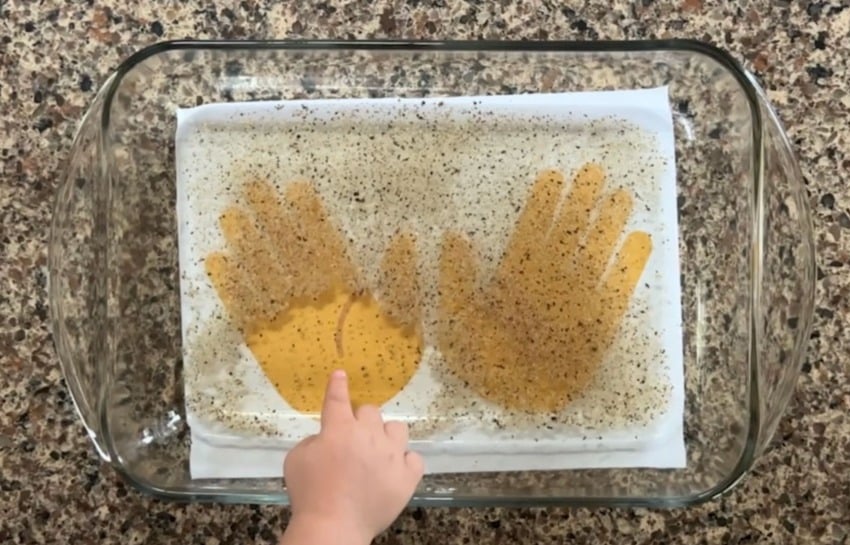 Handwashing is one of the best ways to prevent the spread of germs. When we wash our hands, we wash away the germs that can make us sick. This fun experiment teaches children why washing our hands is so important!
Creating a healthy handwashing habit at an early age will help your child and family stay healthy. Be sure to always give frequent reminders to wash hands, especially after going to the bathroom or playing outside. In addition, parents should lead by example and ensure the correct products are used.
Teach the Power of Handwashing With This Easy Experiment
Materials:
Clear pan
Printed hand image or traced hand
Pepper
Dish soap
Water
Instructions:
Set your traced hand or printed hand image under the clear dish.
Fill your dish with water and sprinkle pepper across the water's surface to create a thin layer. (As you do this, explain to your child that the pepper represents the germs.)
Dab a little dish soap to your child's fingertip, then dip their finger into the water.
You will notice the "germs" magically move away from the soapy finger!
How to Make Germs Scatter – Video Tutorial
Questions to Ask Your Child After the Experiment
What happens to the pepper when you touch it with your soapy finger?
Why do you think the pepper moves when we put soap in the bowl?
Why is it important to use soap and wash your hands?
We hope this science experiment served as an easy way to teach children about the importance of handwashing and even get them excited about washing their hands!
Wasn't this educational experiment about the importance of handwashing fun? We have more where that came from! Find more interactive kids' activities, parenting tips, and book recommendations in our Family Resource Library.
To learn more about New Horizon Academy's health and safety initiative, visit our Health and Safety page!
New Horizon Academy is a nationally recognized early learning provider with over 90+ schools in Minnesota, Colorado, Iowa, Idaho, and Kansas. Through a play-based curriculum and high-quality daycare, New Horizon Academy schools nurture and prepare children to succeed in school and life.
Schedule a tour to learn more about our highly trained teachers, safe and secure facilities, and commitment to providing the highest quality care. Contact a New Horizon Academy childcare center near you today!