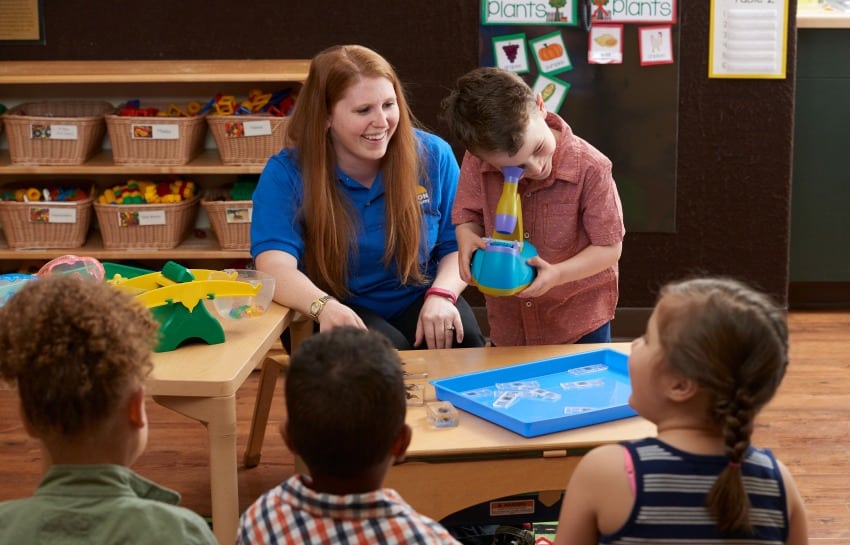 At New Horizon Academy, we provide so much more than day care! We provide early care, education, preschool, school readiness, and before and after school programs for children 6 weeks to 6 years. Our programs are available as a full-day program, a half-day program, and a before and after school program at select locations.
Beyond Day Care
Infant Program
Beyond day care, New Horizon Academy's infant program offers individualized care for each infant. We understand that very young children require an environment that is especially responsive to individual needs. In the infant classrooms, you will see teachers singing songs, cuddling, reading stories, engaging in conversation, using sign language, doing yoga activities, and playing with infants. This 'play time' is scheduled every day to help children physically learn and grow.
Above and Beyond Day Care
Above and beyond day care, our teachers use research-based curriculum to create opportunities for exploration, and to help children build a foundation of literacy, math, and science skills. Through hands-on activities, teachers encourage discoveries in the learning domains of social and emotional, language (including sign language), small and large motor, sensory, and cognitive development.
Preschool Program
Our preschool kindergarten-readiness curriculum is well beyond day care, as it uses an outcomes-based, learning-experiences approach to support children's development of essential school-readiness skills. This comprehensive approach prepares children to enter kindergarten with the language, early literacy, mathematics, social and emotional, physical, and cognitive skills necessary for success.
School-age Program
Our school-age program offers so much more than just day care, as our teachers create an environment where there is a balance between homework support, recreation, and active learning. Teachers plan opportunities for exploration to help children continue to grow in the areas of literacy, math, science, and social skills, all while having fun. Our teachers understand school-age development and present activities that reinforce the school-age child's need for self-esteem, friendship, rules, play, self-awareness, physical development, and the importance of routines.
We believe that the best place for your child is New Horizon Academy. We actively incorporate the best research and practices into our classrooms in order to provide the best possible learning environment for your child during their most formative years.