Large Motor Activities for Your Child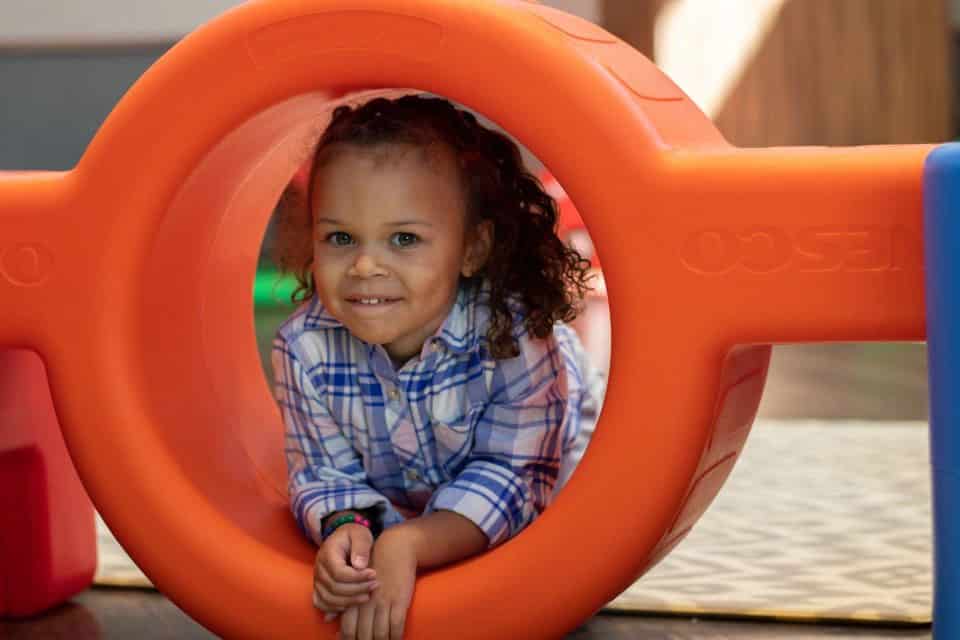 Research indicates that large motor skills are a major predictor of a child's school readiness. In essence, they reflect "brain skills," and it is easy to overlook the importance of the development of these skills.
When infants and toddlers move their arms and legs, they are developing their gross motor skills. Studies suggest that as children develop crawling, walking, running, and jumping, they are also developing their cognitive abilities. When infant and toddlers begin to work their large muscles, they are also exercising the neural networks needed for their cognition and perception.
There are a wide variety of ways parents and caregivers help children develop gross motor skills.
At New Horizon Academy, we are very intentional with planning activities to support the development of large motor skills. Our curriculum includes daily indoor and outdoor large motor activities, such as baby yoga, movin' and groovin' activities, physical well-being, health, and motor development.
We even have outdoor classrooms, playgrounds, and indoor great rooms. Those are large areas (similar to a gym) with places for children to move, stretch, and grow. Our teachers utilize the outdoor playscapes daily, and in inclement weather, they use our great room. Our great room has balance beams, a Hopscotch area, climbers, etc.
We know the weather during the month of March is somewhat unpredictable, and it can be challenging to get outside, so I wanted to share a few ideas to help parents keep their children busy and moving indoors, during inclement weather.
Large Motor Activities:
Dance Party
Turn up the music and dance with your children. This is an easy and great way to get them dancing.
Yoga
Practice yoga. There are so many benefits for kids. It enhances physical flexibility, refines balance and coordination, develops focus and concentration, and boosts self-esteem and confidence. Here are a few books:
You Are a Lion! And Other Fun Yoga Poses

by Tae-eun Yoo

I Am Yoga by Susan Verde
Little Yoga by Rebecca Whitford
Snowball Toss
Use soft indoor snowballs to toss them into a basket. If you do not have indoor snowballs, crumple up tissue paper and toss that into the basket.

Laundry Basket
Bring your laundry basket and let the fun begin. Children may push it around like a fire truck, hop over it, jump in it, and so much more. They are very creative, so I am sure they will come up with tons of fun ideas.
Spin-A-Move
Use the Spin-A-Move tool on the New Horizon Academy website to get your child moving during inclement weather.
1) Spin the exercise spinner on the left. This is the exercise you will do.
2) Spin the number spinner on the right. This is how many times to do that exercise.
3) Repeat as many times as you would like for more fun.
Balloon Tennis
Balloon tennis gives kids all sorts of opportunities to exercise their gross motor skills as they jump, leap, stretch, balance, and lunge in the style of their favorite tennis player. To make your own balloon tennis set, simply tape jumbo popsicle sticks onto the back of paper plates to make your racquets. Inflate a balloon to make your tennis ball! Then let the fun begin.

Egg-sercise
Write actions such as run in place, jumping jacks, hop like a frog, touch your toes, or use the ideas from our Spin-A-Move tool on the New Horizon Academy website. Place them in plastic eggs. Have your child select an egg. Open the egg and read the exercise. This is the "eggsercise" he or she will do.
Obstacle Course
Using materials around your home, create an obstacle course. Children can kick a ball, jump over a pillow, crawl under a chair, limbo under a broom, etc. You can get really creative.
Outdoor Movement Activities
Obviously, outdoor play provides a wonderful way to support large motor development. If weather permits,
Large motor physical activity in the early years does not need to be complicated, it just needs to happen!