How to Celebrate New Year's Eve With Your Kids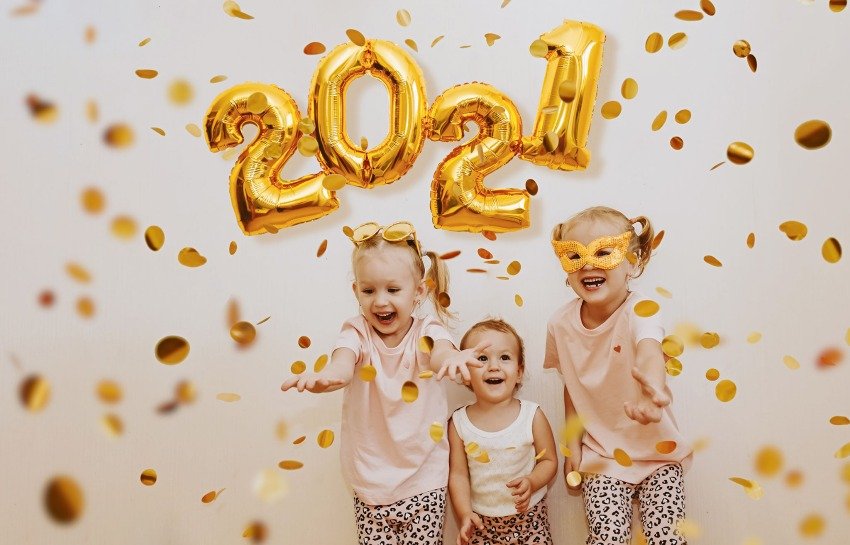 It is no question people are looking forward to celebrating the new year with how 2020 went, but do not be surprised if your kids want to celebrate too! If this is the case for you, all that means is mixing up the celebration traditions to be family-friendly and, most notably, a time to remember. We have provided some fun ways to ring in the new year to make New Year's Eve a party to remember.
Buy Party Supplies. Stop by your local party store or rush order online some blow-up balloons, top hats, headbands, and party glasses that read 2021! There are also fun New Year's poppers or silly strings that can add to the festivities kids love!
Dress Up. Have the family dress their absolute best to make the night special. Put on that sparkle dress as if you were heading to a party and iron those fancy suits. Get the kids dressed in a necktie or pretty dress, and give them special attention by doing their hair or providing perfume or cologne to wear. This will get the kids excited and ready to celebrate!
Play Games. Want to enjoy some game time? This is especially perfect when indoors and when you are in need of some entertainment to occupy the family. Create a New Year's Eve word search that has to be completed by the new year, or play your favorite board game!
Have a Dance Party. Create a family fun playlist that includes your favorite songs. Have a dance contest with prizes such as toys or candy, and then declare everyone a winner by awarding them for an individual skill like best twirler or best skipper. Family-friendly competition only!
Set Off Fireworks. Depending on where you live, it may be common for your city to host a NYE fireworks event! Bring a warm blanket, some snacks, and sparklers for the kids, and enjoy the fireworks show.
Set Up a Photo Booth. Grab your camera, buy some film, and create a fun backdrop. Have the kids decorate the backdrop by painting, drawing . . . you name it! The possibilities are endless!
Eat Fancy Food. Try to cook or bake something new for the special celebration. Making the meal interactive like cheese fondue is a great meal for kids and adults to enjoy! This is also a great idea in case you want something sweet. Instead of using cheese, have a chocolate fondue party for dessert!
Make Fun Mocktails. Champagne is a must to ring in the new year. To help the kids feel included in your New Year's toast, give them something special to drink. Sparkling apple juice for the older kids in plastic champagne flutes or letting the little ones drink out of a big kid cup should make them feel extra special.
Family Resolutions. Discuss with the family what goals and resolutions you can make for the upcoming year. Set some for each individual as well as the family. Once finished, display the goals and resolutions on the fridge to keep the family motivated throughout the year.
Virtual Friend Party. The COVID-19 restrictions make it hard to party it up with family and friends for NYE, but do not worry! You can still experience New Year's Eve with the ones you love. Invite a few on Zoom or another video chat platform to make it feel like a real party. The best part, you do not have to clean up after everyone nor feel guilty about leaving people out.
Early Countdown. Kids no doubt have to stay on a schedule, which is why it is hard to keep kids up until midnight. The good news is that Netflix created a countdown for kids just for this very reason. Turn this on right before bedtime or any time you want the kids to get ready for bed. Other parents have opted to have a "Noon Year's Party" with the littles rather than keeping the kids up late. That's a great idea as well!
Midnight Kiss. Kiss the kiddos when the clock strikes 12, but make this moment especially sweet by giving them each a chocolate Hershey's Kiss! This doesn't have to take place at midnight; it could be noon.
Whether you want to ring in the new year with a game, dance party, or whatever you choose, this list of ideas is sure to give your family a memorable experience and start the year off right. Please let us know how your family plans to celebrate!
Check out our 5 Fun and Easy Activities to Ring in the New Year for even more New Year's Eve fun!