How to Balance Parenting and Work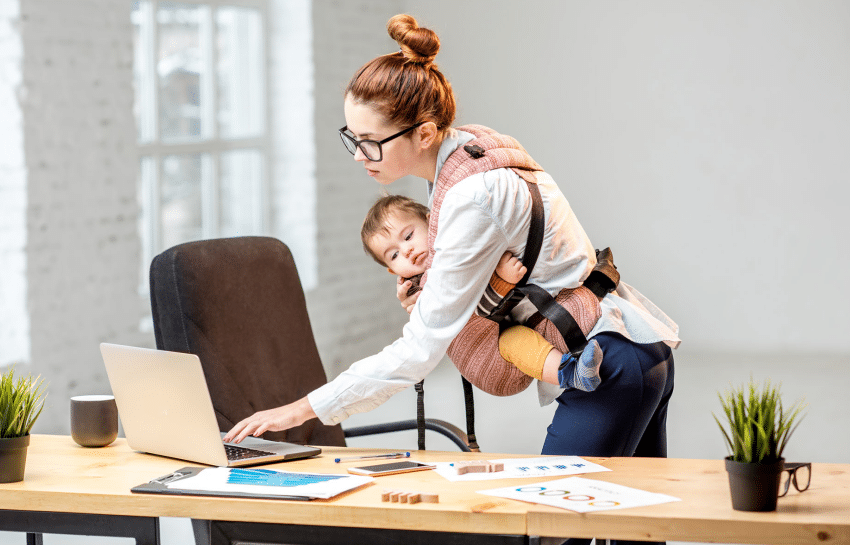 Parents are busy people, especially when they are juggling a career on top of parenthood. It can be difficult to find that healthy balance between your work and home life. Here are a few tips to help you find the right balance as a working parent!
Manage Your Time Wisely
In order to create a healthy balance between work and parenting, it is important to manage your time wisely. Having a career and being a parent are both full-time jobs, and both take a lot of your time and energy. Test out different ways to use your time more efficiently. Use a planner or online calendar to keep track of daily activities and important events. Adding activities to a calendar helps visualize your time and helps ensure that you won't miss an important family outing or work deadline.
You also want to limit distractions and timewasters, so you have more time to spend with your family at the end of the day. Keep your phone time to a minimum when you are at work. The more time you spend at work not working, the more your work life will carry over into your home life. By managing your time wisely, you will be able to effectively accomplish the things you want both at home and at work.
Set Boundaries
Parenting and your career are both very important. But in our digital age, it is easy for the two to become intermingled, preventing you from giving your full attention to whatever you are doing.
Try to focus on work when you are at work, and on your family when you are at home. Children are observant, and they will notice if you are not giving them your full undivided attention. Separate your work life and home life as much as possible.
If you work from home, try to find a space that is separate from shared family areas. By having this work-specific space, you will be less tempted to work when you are enjoying family time and vice versa. Your family and coworkers will appreciate having your undivided attention.
Make Time for Yourself
While you are balancing parenting and work, it is easy to put yourself on the back burner. However, allowing yourself a little me-time is important. You deserve some time to yourself after a long day. Not only will self-care improve your health, but also help you reenergize and recharge so you can be the best version of yourself for the people around you.
Allow yourself time for a few breaks throughout the day, or right before you to to bed. When you wake up in the morning, you will feel much more refreshed and ready to take on the day. Here are a few of our favorite self-care tips for parents.
Build a Support System
They say it takes a village to raise a child. Remember you are not in this parenting gig alone. Lean on your family and friends, whether that be a spouse, partner, friend, parent, or neighbor. Never be afraid to ask for help when you need it.
It is also a good idea to maintain healthy communication at work. Talk to your manager or boss about establishing a healthy work-life balance that benefits both you and your employer. With good communication and a strong support system, you will be better able to juggle working and parenting.
Find Quality Childcare You Trust
And last but not least, it is vital to find quality childcare you trust. When you are at work, you should have peace of mind knowing your child is in a safe, healthy, and supportive learning environment.
While many parents feel guilty about missing time that could be spent with their children, parents should understand childcare can be on of the best places for children to be! Childcare centers give children the attention and support they need to learn, grow, and thrive in their earliest years. Children will be able to explore their surroundings, ask questions, and interact with other kids their age at a daycare center, giving them a solid foundation for life and learning.
Once you find the perfect childcare for your family, you will find peace of mind as you drop off your child and spend your day at work. Then, after your workday is done, you will be able to give your child all your love and attention and enjoy some much needed family time.
Finding the right childcare center for your family can be difficult. That is why New Horizon Academy put together a handy quality childcare checklist that you can use as you tour different schools and search for the best early learning program for your child. Contact us with any questions, or to tour our schools!
New Horizon Academy is a nationally recognized early learning provider with over 90 schools in Minnesota, Colorado, Iowa, Idaho, and Kansas. Through play-based curriculum and high-quality daycare, New Horizon Academy schools nurture and prepare children to succeed in school and in life.
Schedule a tour to learn more about our highly trained teachers, safe and secure facilities, and commitment to providing the highest quality care. Contact a New Horizon Academy childcare center near you today!