5 Parenting Tips to Get Through the Busy Holiday Season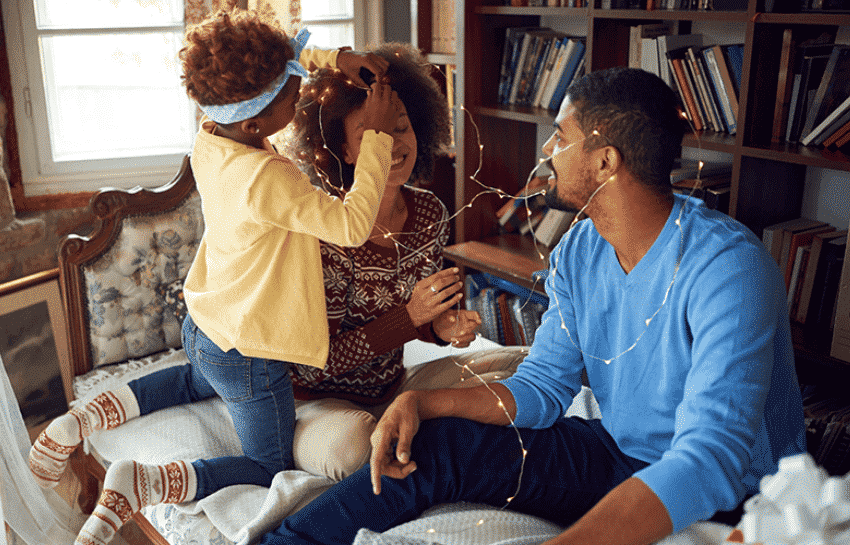 The holiday season is here, and for parents, the holidays bring stress along with joy. The holidays are exciting for young children but also a bit overwhelming. With family events, meeting new people, and holiday parties, children's behavior may negatively reflect that. Are the young kids in tow? If so, we want to provide a few tips we share with our New Horizon Academy families that seem to help lessen the holiday stress.
1. Lay Out the Plan
It may sound like you and the family are about to embark on a long journey, but this step is necessary to set clear expectations. This idea is to sit down with everyone for a few minutes before the event or gathering to give them a heads-up and create rules and boundaries. During this meeting, you will explain what is taking place at the event, the timeline, who will be in attendance, etc. Kids need a routine, and it helps them know ahead of time when something significant is happening that is outside of their norm. Establishing the rules, boundaries, and expectations beforehand will help with any confusion.
2. Know Your Child's Temperament
This is one of the best tips for parents that is often overlooked. Every kid is different, which means all kids will have different temperaments. Children show different reactions in social situations. Introverted kids most definitely struggle more at parties, feel overwhelmed, and need a quiet place to feel safe. Extroverted kids most likely will thrive during the party but then show signs of a meltdown closer to leaving. When these situations come about, it is helpful to consider these needs beforehand and how to manage them.
3. Set Realistic Expectations
This is one of our favorite holiday tips for parents, which seems obvious, but often gets pushed aside. Try to set your child up for success. Do not expect your toddler to act like an adult at a large social gathering. This is challenging for many parents because people expect them to attend dinners out, spend time with relatives, and more. Frankly, most of these events are not great for kids to attend. Too often, kids have to come along. So, give yourself and your child grace when your child shows signs of a meltdown or lack of communication.
4. Don't Hurry
Although it is much easier said than done, parents try to attend events on time, but sometimes (most times) it doesn't happen. With young children in the picture, always allow more time to get ready. Rushing at the last minute to get ready, pack up the car, and fix things adds stress to the event for everyone. Kids are emotional sponges. They will sense when you are stressed and often do not respond well.
5. Take Care of Yourself
Most importantly, and often neglected, take care of yourself to avoid holiday burnout. Parents need to take care of themselves to take care of their family. Whether you want to meditate, eat healthily, or exercise more, anything that makes you feel better and provides self-care should be a non-negotiable need.
Whatever tips you use from us to help you navigate the craziness of the holidays, just remember, your kids love you and the holidays no matter what, and everything will be okay.