The Key to a Successful Family Picnic – Activity & Recipe Ideas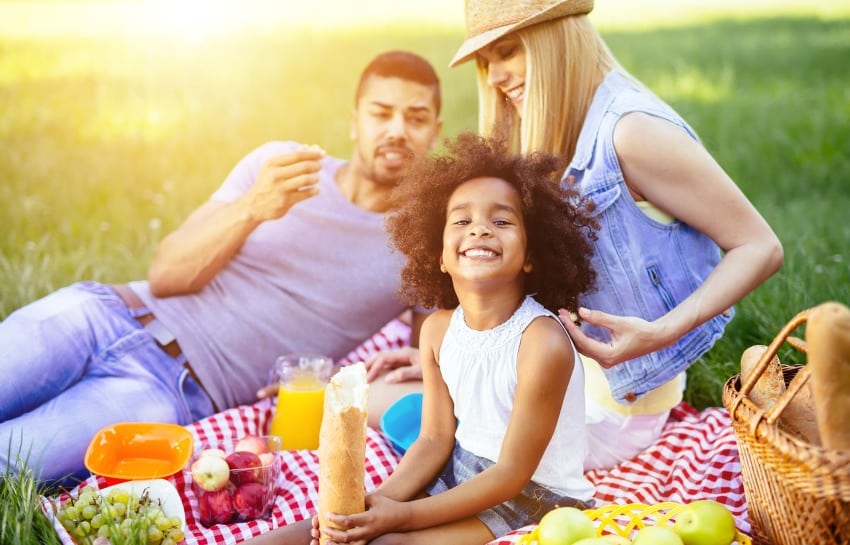 Summertime is the perfect time to pack a picnic and head outdoors with your family. Picnics provide the perfect setting to enjoy delicious foods, a little sunshine, play outdoor games, and spend quality time with your baby, toddler, preschooler, or school-ager.
Fun Picnic Games & Activities
To help you plan your next outdoor adventure, the daycare teachers at New Horizon Academy shared some of their favorite picnic games and activities that are guaranteed to offer endless hours of fun in the sun for the entire family.
Go on an Alphabet Walk
Have you heard of an alphabet walk?
While walking together, look for objects that start with these beginning sounds. Use the New Horizon Academy Alphabet Walk to record what you observe.
Relay Races
Children love racing, so plan a fun relay race.
Here are a few simple ideas to try:
Running
Jumping like a frog
Hopping like a bunny
Slithering like a snake
Walking backwards
Add an element of competition by having a start line and finish line for each race. Or divide into teams and tag off at the half-way point from the starting line. Your entire family will have a blast participating in a silly relay race!
Play Red Light, Green Light
Red Light, Green Light is an oldie, but a goodie, and helps your child develop their listening, observation, and agility skills. In case you need a refresher of how to play the game, we have included instructions below.
Before You Start
Review the rules and what happens if some moves on a Red Light.
Discuss how to move quickly and safely.
Set Up
Clearly define the playing area with a designated starting line and finish line.
How to Play Red Light, Green Light
Start with everyone standing along the starting line.
When you say Green Light, everyone will move towards the finish line.
When you say Red Light, everyone must immediately stop.
If players are still moving when you call Red Light, they must go back to the starting line.
Start a new round once everyone gets across the finish line, or, when most of the players have made it across the finish line.
Water Tag
Tag with a fun twist. One family member is armed with a spray bottle full of water. Similar to regular tag, the goal is to run away from the person who is "it". The first person squirted becomes "it" and takes over spraying. The last dry person standing wins.
Water Balloon Toss
Simply fill water balloons, assign partners, and begin tossing the water balloon back and forth between partners. The team whose water balloon lasts the longest wins.

Picnic Recipes We Love
The Director of Food and Nutrition at New Horizon Academy shared a few healthy, kid-friendly recipes, and tips for a picnic.
We recommend involving your child in preparing the food for the picnic as research tells us that children are more likely to eat what they prepare. Involving your child in the cooking process also gives you the opportunity to chat with them about healthy eating.
Bring plenty of water and stay well hydrated. Try adding slices of fruits such as lemons, oranges, pineapple, and strawberries to water for variety and flavor. Adding fruit makes it a special picnic favorite, too.
Prevent any messy food mishaps by packing individually pre-portioned foods. Below are a few recipes to help you do just that.
Stoplight Bites
Stoplight Bites are the perfect snack for a picnic and are easy to make. Your child is sure to enjoy them!
Cucumber Sammy
Your child will love the New Horizon Academy Cucumber Sammy. It is a healthy alternative to the regular sandwich. These are delicious and easy to make. Not to mention a family favorite.
Rainbow Fruit Salad
This refreshing fruit salad is both healthy and delicious. Rainbow Fruit Salad is a must have side dish that's made with a beautiful blend of delicious fruits and a simple dressing to compliment it. This pick is always sure to be a crowd favorite!