8 Ways to Help Your Child Build Friendships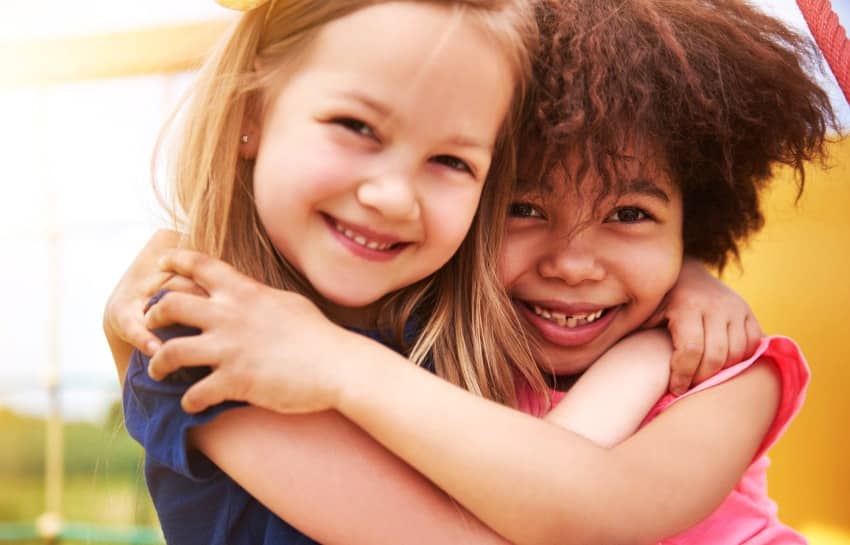 Does your child have trouble making friends? It's okay if your child is not a social butterfly, but helping them to become more social will help them learn how to resolve conflicts and build social competence.
Doctor Rachelle Theise, a clinical assistant professor and child psychologist at the NYU Child Study Center in New York City, says, "Friendships are critical to helping children improve their communication, sharing, empathy, problem-solving, and creativity. Those relationships help children learn to get along with others and interact with the world."
Here are 8 helpful tips and activities to help your child feel more confident in building friendships.
Practice Greetings
Teach your child to ask for a neighbor or classmate's name or have them suggest an activity. Practicing and rehearsing these social skills in a safe environment, like home, will help them build confidence.
Schedule Playdates
Children who tend to be shyer will feel more comfortable partaking in a playdate at their home or a place that does not require much participation. They will feel less overwhelmed in a familiar environment.
Find a Childcare Center Near Me
Teach Apologizing
Teach your kids when to feel sorry and why they think that way. This will help your child with problem-solving and keeping relationships.
Encourage Friendships
Signing your child up for camps, activities, sports, or clubs is an excellent way for your child to build connections. It shows them what friendship looks like and gives them opportunities to connect with others with similar interests.
Play Games
Partaking in sports and other games will help your child understand teamwork and taking turns, which is essential in friendships. As soon as your child knows how to play a game, such as Candy Land, invite a friend over to play the game with your child.
Teach Empathy
Children learn to consider feelings by participating in an activity that involves helping others. Ask your child to help with simple tasks like creating a card, donating toys to shelters, or baking cookies for a new neighbor.
Provide Opportunities
Instead of creating structured playdates, choose something that allows your child to be creative. Meet at the park or playground to keep the environment open.
Model Social Skills
Parents can help children develop social-emotional skills through modeling social behaviors, sharing, listening, taking turns, etc. This will help guide your child to do the same.
Many children struggle with building friendships, which may not have anything to do with their personality. It most likely means the child needs help making and keeping those relationships. These tips we have provided will help.

New Horizon Academy is a nationally recognized early learning provider with over 90 schools in Minnesota, Colorado, Iowa, Idaho, and Kansas. Through play-based curriculum and high-quality daycare, New Horizon Academy schools nurture and prepare children to succeed in school and in life.
Schedule a tour to learn more about our highly trained teachers, safe and secure facilities, and commitment to providing the highest quality care. Contact a New Horizon Academy childcare center near you today!