Questions to Ask When Choosing a Daycare
Choosing childcare is one of the most important decisions you will ever make for your child. Research increasingly tells us that the first years of a child's life are critical to shaping their future health and development. At New Horizon Academy, we understand that high-quality childcare and education in the early years can make a positive difference for the future of your child. By making a thoughtful decision now, you can help your child develop the skills needed to be successful in school.
How to Choose a Quality Daycare
To help you make the best decision for your child, researchers have identified quality indicators with information on what to look for and ask about to find out if the program you are considering will be a safe, healthy, nurturing, learning environment for your child. Below is a handy checklist to assist you in finding the best program for your family.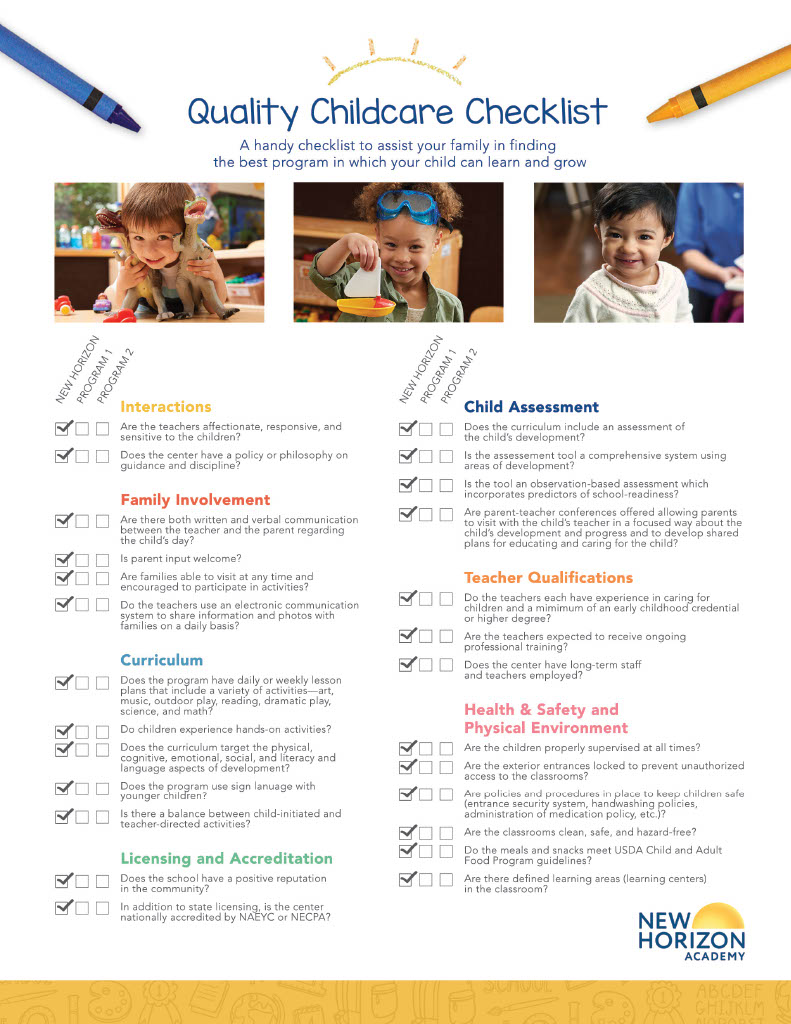 Download Quality Childcare Checklist
Important Questions to Ask When Touring Daycares
Interactions
Are the teachers affectionate, responsive, and sensitive to the children?
Does the school have a policy or philosophy on guidance and discipline?
Health & Safety and Physical Environment
Are the children properly supervised at all times?
Are the exterior entrances locked to prevent unauthorized access to the classrooms?
Are policies and procedures in place to keep children safe (entrance security system, handwashing policies, administration of medication policy, etc.)?
Are classrooms clean, safe, and hazard-free?
Do the meals and snacks meet USDA Child and Adult Food Program guidelines?
Are there defined learning areas (learning centers) in the classroom?
Teacher Qualifications
Do the teachers have experience in caring for children and a minimum of an early childhood credential or higher degree?
Area the teachers expected to receive ongoing professional development and training?
Does the school have long-term staff and teachers employed?
Curriculum
Does the program have daily or weekly lesson plans that include a variety of activities—dramatic play, music, outdoor play, reading, science, technology, engineering, art, and math?
Do children experience hands-on activities?
Does the curriculum target physical, cognitive, emotional, social, and literacy and language aspects of development?
Does the program use sign language with younger children?
Is there a balance between child-initiated and teacher-directed activities?
Child Assessment
Does the curriculum include an assessment of the child's development?
Is the assessment tool a comprehensive system using areas of development?
Is the tool an observation-based assessment which incorporates predictors of school-readiness?
Are parent-teacher conferences offered allowing parents to visit with the child's teacher in a focused way about the child's development and progress and to develop shared plans for educating and caring for the child?
Licensing and Accreditation
Does the school have a positive reputation in the community?
In addition to state licensing, is the school accredited by the National Association for the Education of Young Children (NAEYC) or the National Early Childhood Program Accreditation (NECPA)?
Family Involvement
Is there both written and verbal communication between the teacher and the parent regarding the child's day?
Is parent input welcome?
Are families able to visit at any time and encouraged to participate in activities?
Do teachers use an electronic communication app to share information and photos with families on a daily basis?
Finally, trust your instincts. You are the expert on what is best for you, your child, and your family. Touring schools provides you with insight into what childcare and early learning centers have to offer, and one will feel right for your family.
We believe that the best place for your child is New Horizon Academy, but whatever decision your family makes about early care and education, it is vital that your child's first learning experiences be of the highest quality.
Download a printable version of our Quality Childcare Checklist.