Celebrate NAEYC's Week of the Young Child®
The Week of the Young Child® is an annual celebration hosted by the National Association for the Education of Young Children (NAEYC) celebrating early learning, young children, their teachers, and families. New Horizon Academy is so excited for a week-long celebration of our youngest learners!
Music Monday
Sing, dance, celebrate and learn
Children will join together with their friends to celebrate music. From dance parties to marching bands, your child will participate in music appreciation.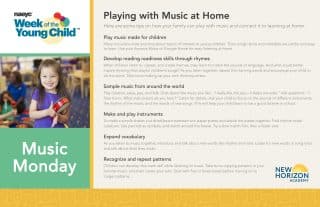 Click here to download.
Tasty Tuesday
Healthy eating and fitness at home and school
Children will make a special "Sunny Sushi Roll" at New Horizon Academy. They are sure to enjoy this delicious snack.

Click here to download.
Work Together Wednesday
Work together, build together, learn together
Children will use a variety of building materials to make wonderful creations with friends. There's no limit to what they will come up with!

Click here to download.
Artsy Thursday
Think, problem solve, and create
Using crayons, paints, clay, and more, children will use their imaginations to create wonderful masterpieces.

Click here to download.
Family Friday
Share family stories
Share pictures and stories about your family on Facebook, Twitter, and Instagram using the hashtag #NHACelebratesWOYC.

Click here to download.
Enjoy the celebration!