Activity: May Day Baskets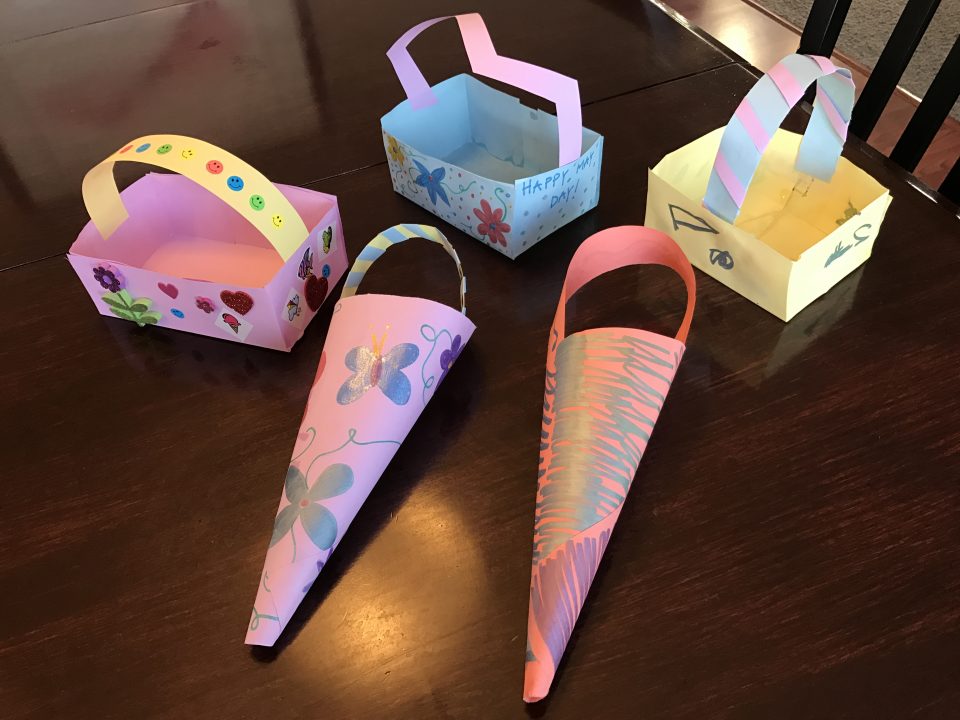 I love May Day! May Day represents spring and is a tradition I had as a child that I have continued with my own children. It offers the opportunity to create something for others along with having fun with your friends as they try to find and catch you!
I would like to share our simple and inexpensive May Day basket ideas with you. Everyone in our family is able to participate in creating these baskets. The good news is that it is an open canvas you can decorate as you desire. Here is what you will need:
Paper
Tape or glue
Scissors (kid friendly optional)
Crayons or markers
Other fun materials you would like to use
We typically create two types of May Day baskets; one is a cylinder. and one is a square. First, let us create the cylinder.
Take 8½" by 11" paper and cut a small portion off so it becomes a square.

This makes it easier to create the cylinder.

Decorate the paper. Be as creative!

Keep in mind a small portion (typically a triangle shape in the corner) will be covered up once you twist the paper into a cylinder.

Twist into a cylinder.
Seal with tape or glue.
Use either the left over paper (from cutting into a square) and/or another sheet to make the handle.
Cut handle into desired width and length.
Decorate, if desired.
Adhere to each side of cylinder.
If the square basket makes more sense for you, here is how we created ours:
Fold each side of 8½" x 11" paper up approximately 2 inches.
Cut the crease from the fold on the long side of the paper (2 cuts on each side).
Decorate! Keep in mind that parts will be folded and will not be seen once complete.
Fold into a box.
Tape or glue together.
Add handle as desired.
You did it! Now fill it with desired treats. Some favorites at our house are stickers, pencils, homemade flowers, and small snacks. Have fun delivering to your friends! Remember to ring their doorbell, leave the May Day basket on their doorstep, then run and hide! Make sure to wear your quick shoes because they may catch you!