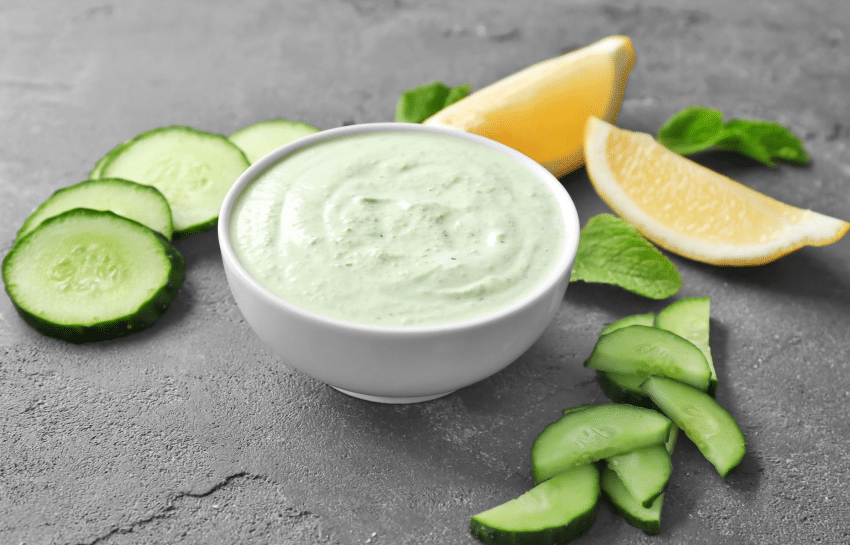 1 cup

plain low-fat yogurt

1 cup

fat-free sour cream

1

cucumber

1 tablespoon

lemon juice

1/4 teaspoon

garlic powder

1/4 teaspoon

dried dill weed (or 1 tsp fresh)

1/4 teaspoon

salt

1/4 teaspoon

ground black pepper

1 cup

baby carrots

1 cup

broccoli florets
Directions
Place the yogurt and sour cream in a medium-sized mixing bowl.
Peel cucumber and cut in half lengthwise. Remove the seeds by scraping them out with a spoon. Grate one half of the cucumber until you have 1/2 cup grated cucumber. Reserve the remaining cucumber. Place the grated cucumber in the mixing bowl with the yogurt and sour cream.
Add lemon juice, garlic powder, dried dill weed, salt, and black powder. Stir until the ingredients are evenly mixed.
Cover the dip and place in the refrigerator to chill for at least 1 hour. Stir again just before using.
Cut the remaining cucumber into 1/4-inch slices. Arrange the cucumber slices, baby carrots, and broccoli florets on a platter. Serve with dip!
Source: Summer Food, Summer Moves (FNS-607) [USDA]