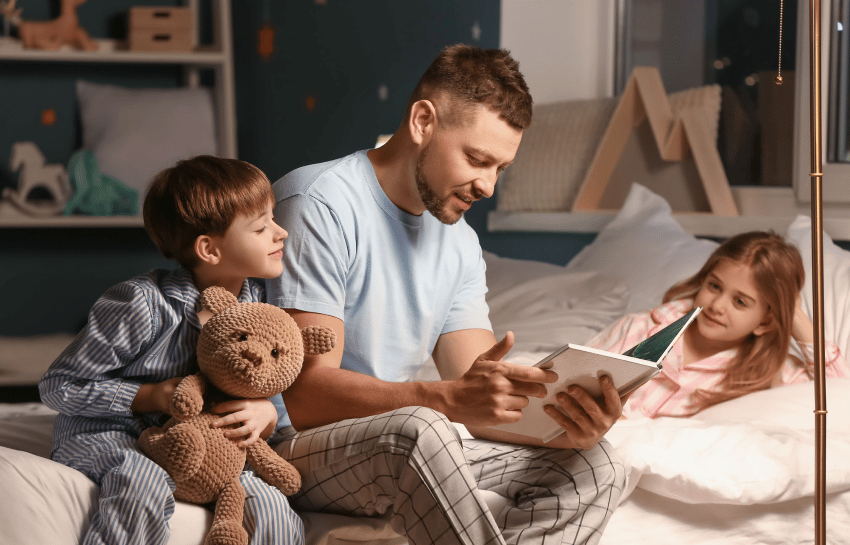 Bedtime stories play an important role in your child's development. Not only do bedtime stories create an opportunity for parents to bond with their kids, but reading to your child at the same time night after night can help them establish a healthy sleep routine. Child psychologists also point to the cognitive benefits for young people who are raised with bedtime stories, including higher-than-average literacy rates and an emotional connection to reading.
Let's look at some expert tips for effective bedtime story reading.
Tips for Parents
No child is too young for a bedtime story. Many experts encourage parents to begin reading to their children while they are newborns, and continue throughout their childhood. The 2016 Time to Read Survey noted that bedtime reading can benefit children as old as 11 years of age. Regardless of how old your child is, age-appropriate reading material is crucial. Books for toddlers and preschoolers should utilize a fairly straightforward vocabulary, and also include pictures or illustrations. As your child advances into elementary school and begins learning to read, chapter books may be more effective.
Here are a few more tips for parents who plan to read bedtime stories to their kids:
Read slowly 
This is especially important for young listeners and children who have not yet learned to read. If the story contains words the child doesn't know, take a minute during the initial readings and explain the definitions.
Involve your child in the reading
Swap out character names for your children's names and allow them to be part of the story. Draw parallels between your child's life and the world of the story in order to drive home important messages.
Be dramatic
Emphasize emotional moments by reading them in an appropriate tone, and use distinct voices for different characters. This will enhance your child's personal involvement in the story, and enhance their imagination.
Read each story more than once
Your child probably won't grasp everything about a story during the first bedtime session, so read it more than once — if possible, on consecutive nights.
Most importantly, if you can get your child into a story reading routine from a young age, they will be more likely to continue reading as adults. To learn more about the benefits of reading at bedtime and for a list of suggested books, visit https://www.tuck.com/best-bedtime-stories/.
What are your favorite bedtime stories?  Share in the comment section below!