7 Family Friendly Activities to Celebrate New Year's Eve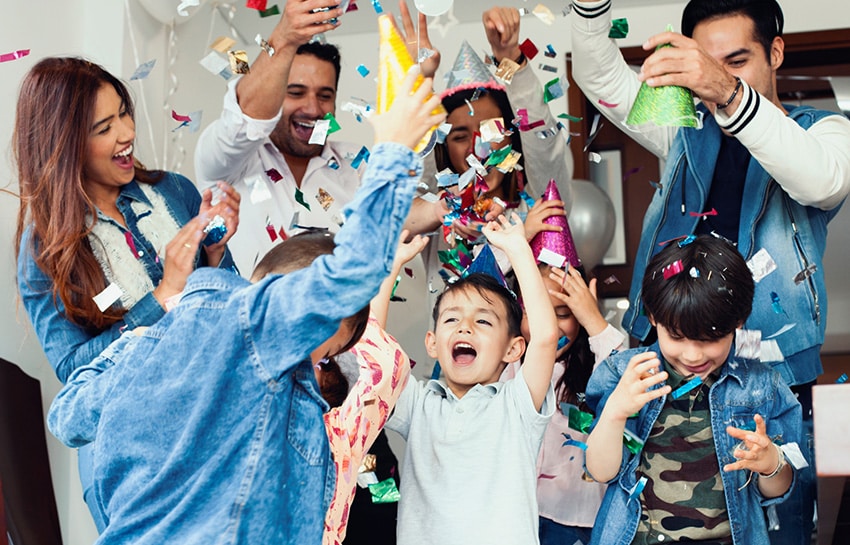 As December comes to a close and we prepare to ring in the new year, many families are busy planning New Year's Eve get togethers and celebrations. If you have young children, it's important to include them in the fun too! If you are looking for a few fun and easy activities for your New Year's celebration, our teachers at New Horizon Academy shared a few of their very favorite family-friendly New Year's Eve celebration ideas.
Here are a few ideas to celebrate the new year at home as a family.
1. Host a Special Fancy Dinner or a Pajama Party Dinner
Whether you want to dress up and get fancy or keep your pajamas on all day, create a special meal and enjoy it together as a family. Involve the entire family in creating the meal, so that everyone is included in creating this special meal.
2. Celebrate New Year's Eve with Time Outdoors
Ring in the new year with winter fun! Head outdoors and spend time together as a family. Whether you are sledding, hiking, roasting marshmallows, or exploring the great outdoors, your family will have a great time being together.
3. Dance Party
Put on your dancing shoes and dance together as a family to ring in the New Year. Turn up the music and boogie the night away.
4. Have a Family Slumber Party
Create a fort, add twinkle lights, and have a family slumber party!
5. Family Game Night
Plan a fun family game night! Play charades, board games, or create your own Minute-to-Win-It Game. Set out snacks and have fun!
6. Setting Goals for the New Year and Year in Review
Spend time together reviewing the events of 2022 and setting goals for 2023. It is a wonderful way to engage in fun discussions. Use our Year in Review and Goals for 2023 sheet to guide your conversation. Save the Year in Review and Goals for 2023 sheet and review next year.
7. Countdown Activity Bags
Materials Needed
Paper bags (lunch bags, white lunch bags, or small gift bags)
Paper clocks (Print our paper New Year's Eve Countdown Clocks.)
Scissors
Glue
Activities for each hour (See suggested ideas below.)
Instructions
1) Print the paper New Year's Eve Countdown Clocks.
2) Cut out the paper clocks and glue onto the paper bags. (You can start with the hour that works best for your family. You could host a Noon Year's Eve event for younger children.)
3) Add fun family activities such as:
The New Horizon Academy Year in Review and Goal Setting Form
Cookie Mix

Bake cookies together and enjoy during your countdown with a cookies and milk toast.

Craft Activity

Add markers, crayons, glue, paper, and other craft items and use the materials to create beautiful masterpieces.

Game

Add your favorite game or a new game and play together as a family.

Storybook

Insert a beloved book and read together as a family.

Photo Booth

Take fun family photos using 2023 photo props.

Party Favors

Include fun party favors, so you may use them at the end of your countdown.

New Year's Eve Noisemakers

Create noisemakers to ring in the new year.